Westborough Today
Buy a tree and support our Civic Club!
Written by Michael (admin)
Sunday, 30 November 2014 14:36
Wreaths - Trees of all sizes - Roping by the yard
Tree Lot is Open Daily starting Saturday Nov 29th
Monday - Friday 1pm to 9pm
Saturday - Sunday 9am to 9pm
Westborough Civic Club Tree Lot ("Tufts Machine Lot") is located at
55 East Main Street (Rt. 30), Westborough
Westborough Civic Club (website, Facebook page) is a registered charitable organization established in 1975 for the sole purpose of benefiting the town of Westborough and its residents. Club members spent last weekend preparing the club's annual Tree Lot for delivery of trees, wreaths and roping ready for opening day sales on Thanksgiving Saturday. This will be the club's 39th year of fund-raising for causes around the town and as always members are hoping to have sold every one of the 1,400 trees and 500 wreaths by Christmas Eve.
The upcoming thirty-ninth consecutive fund-raising season will commence with the delivery of over 1,400 trees and 500 wreaths on Saturday 29th November

This is traditionally a strong community event, with local scouts, Venture Crew and WHS sports teams being present to help members with unloading and setting up the trees

At 9.00 am that day the tree lot officially opens for business; due to the date of Thanksgiving there are only 26 days in which the Club hopes to sell its entire stock of trees and wreaths.

Customers both young and old are welcomed at the lot with a free candy cane from the 3,000 handed out during the season.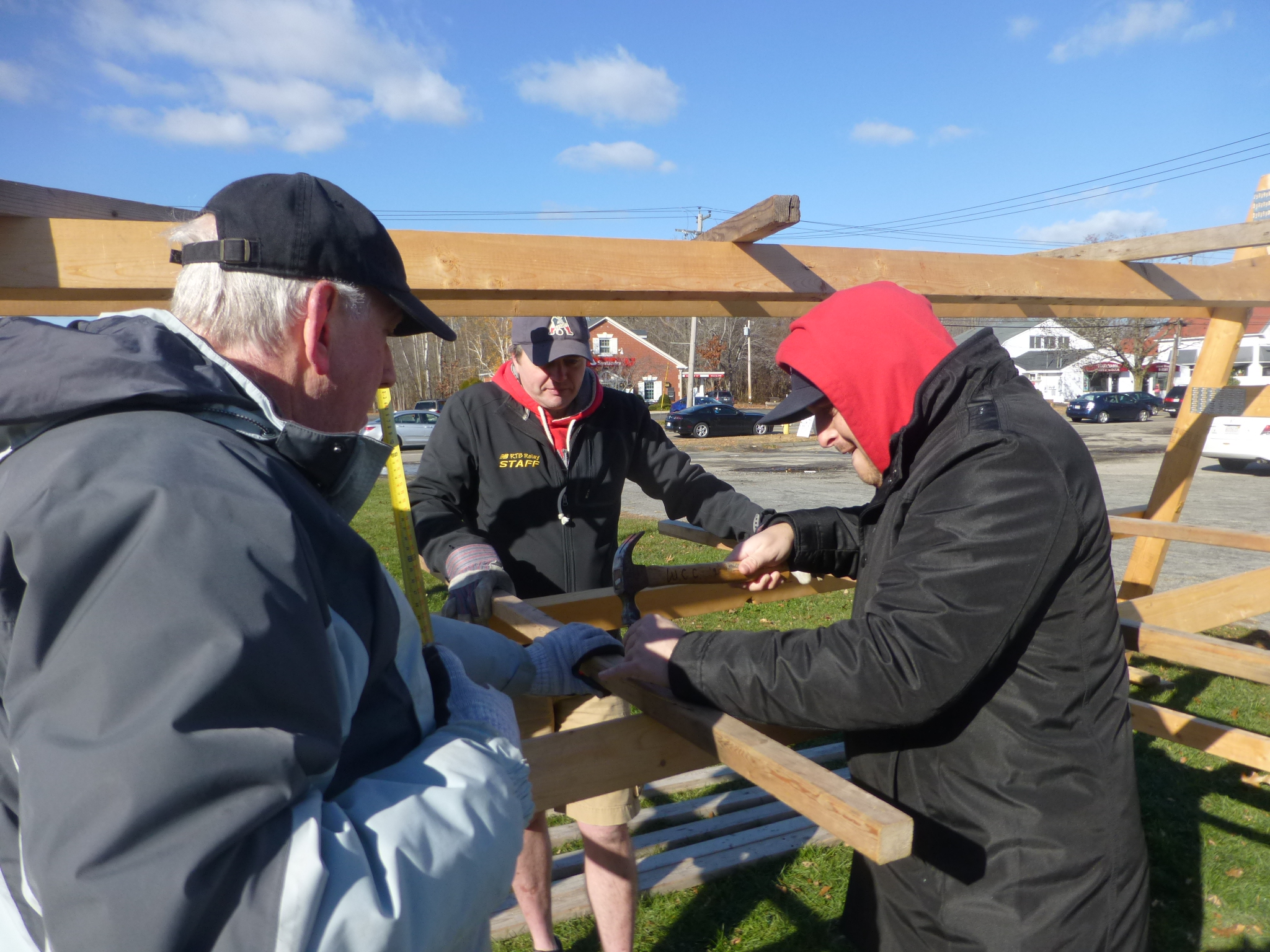 WCC1 – members Bill Kohler, Mike Pickwick and Gerry Knall (Jnr) building the wreath racks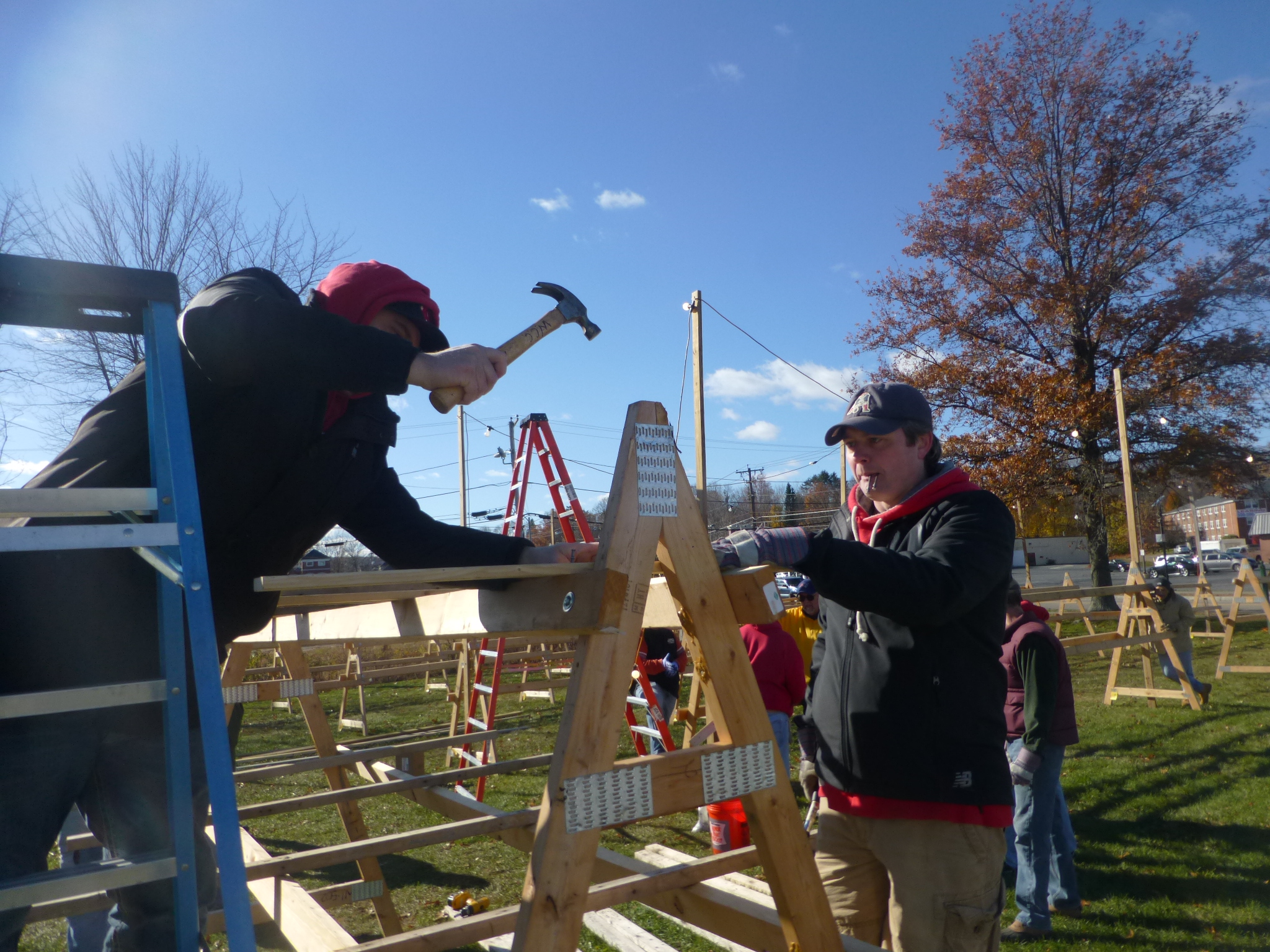 WCC2 – Gerry Knall (Jnr) and Mike Pickwick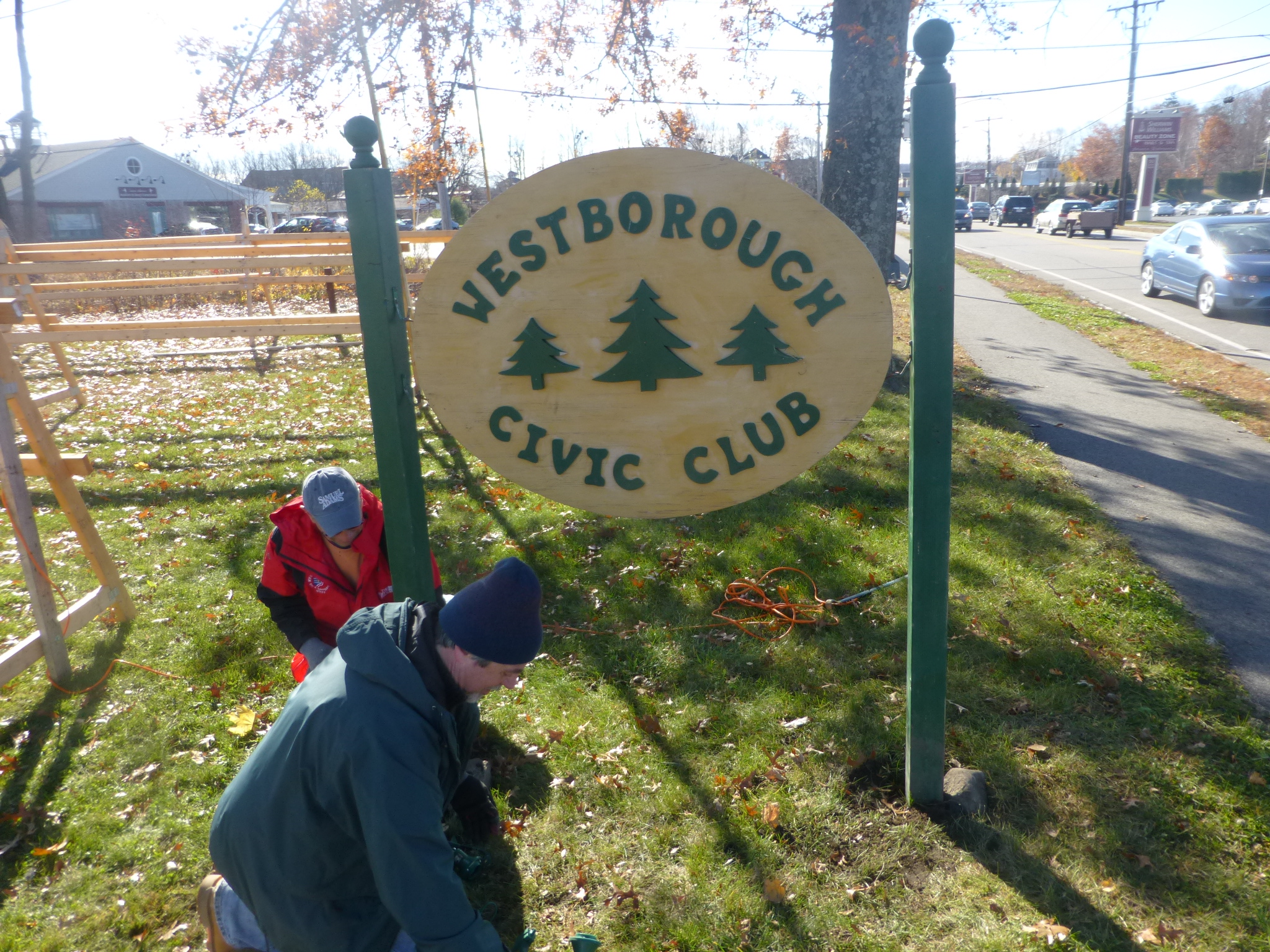 WCC3 – WCC executive members Prentice Gove and Walter Leslie erecting the club sign at the lot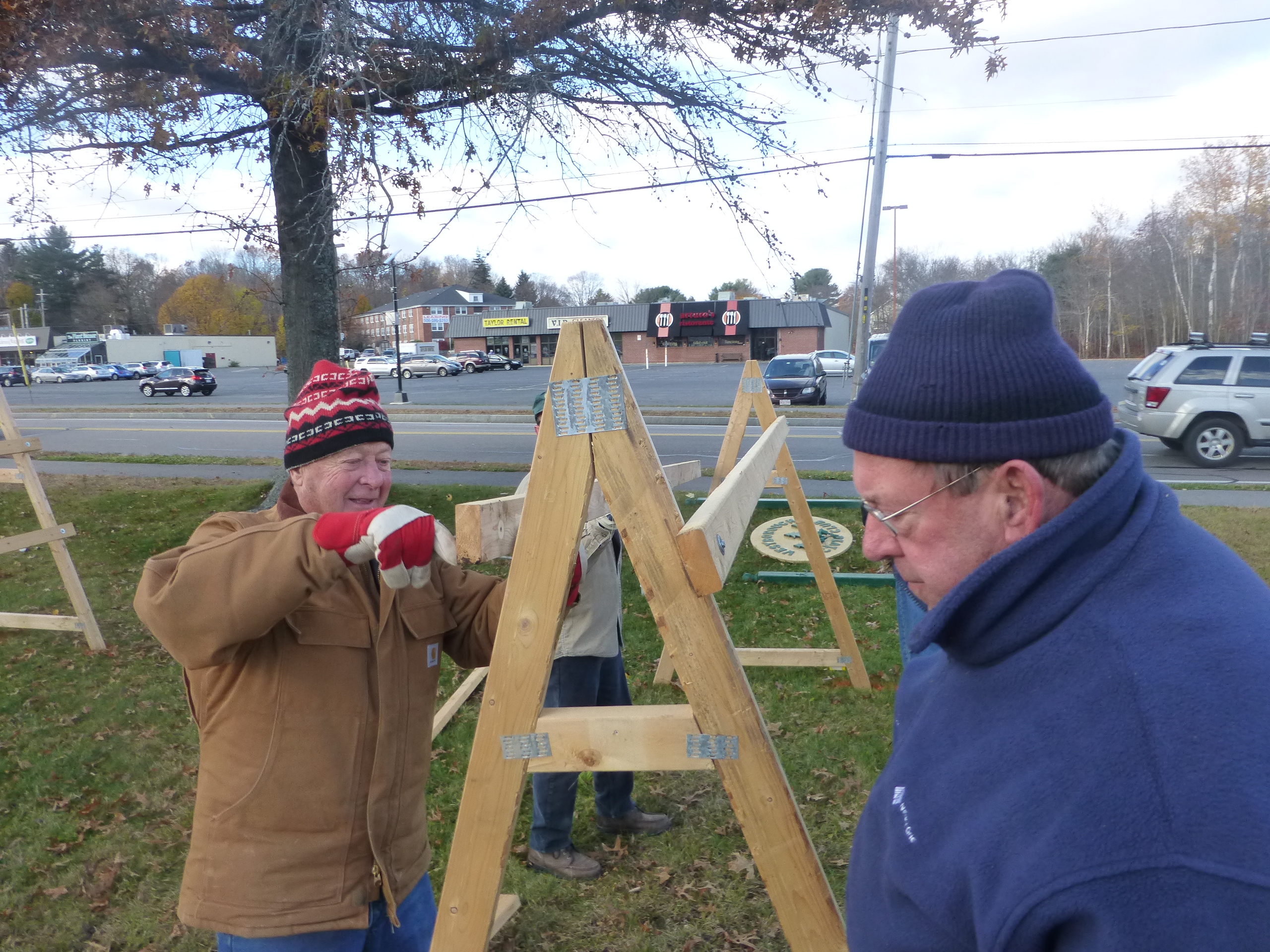 WCC4 – long standing members Ron Slingerland and David Dustman back for what they hope will be another successful year for the Club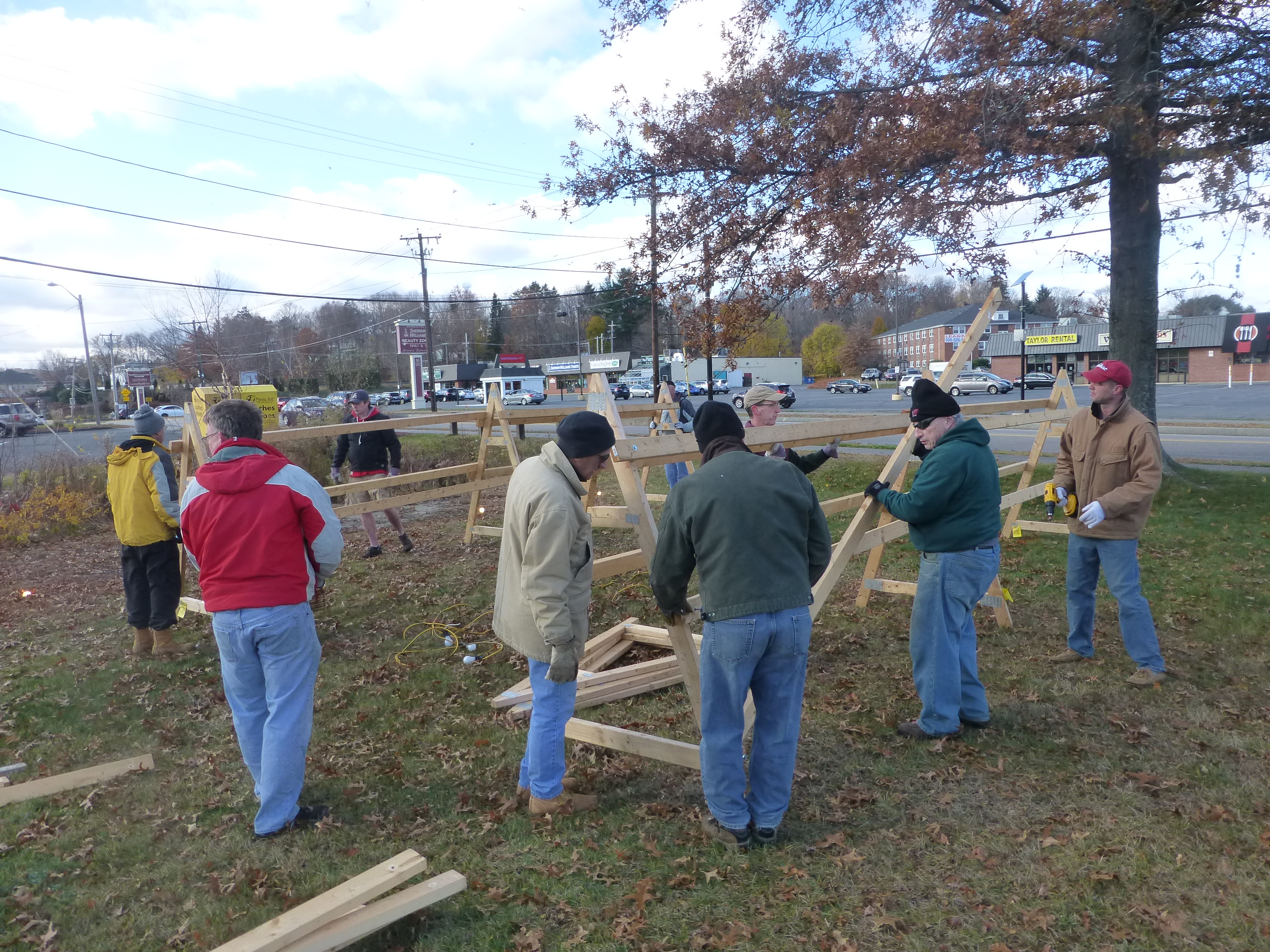 WCC5 – some of the many Club members helping prepare the lot ready for the 29th November
Add a comment
Last Updated on Sunday, 30 November 2014 16:35
Shop Local Westborough on Sat, Nov 29, 2014
Written by Michael (admin)
Saturday, 29 November 2014 00:00
(From Patch and Westborough News)
Westborough _ We all know about Black Friday after Thanksgiving; most of us are also familiar with Cyber Monday the following week; but do you know about Small Business Saturday? Small Business Saturday is a "shopping holiday" pioneered by American Express Company in 2010 and will be held this year on November 29th. Just in time for Small Business Saturday, the Town of Westborough's Economic Development Committee (EDC) recently announced the launch of a new shop local initiative: Shop Westborough! The Shop Westborough Initiative is a shop local campaign to be formally kicked-off on the national "Small Business Saturday," November 29th, 2014.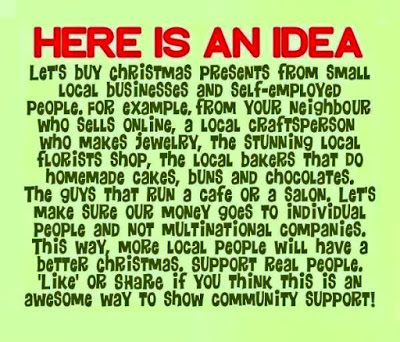 The Westborough EDC is spearheading the Shop Westborough Initiative and encourages residents to consider the many unique shopping opportunities available for holiday giving.
"It's important for everyone in our community to remain mindful of how we can contribute to the local economy. Shopping local helps small businesses flourish and encourages entrepreneurship--the very spirit of starting your own business in pursuit of the American Dream. The Shop Westborough Initiative aligns well with two goals of the Economic Development Committee (EDC): to promote business development in Westborough; and to retain and attract businesses to Westborough," said EDC Coordinator Francisco Torres.
To kick-off the Shop Westborough Initiative, the Economic Development Committee has been partnering with local businesses to offer promotions on Small Business Saturday (11/29/2014). The discounts will pop-up through advertisements across various apps on your smartphone (technology sponsored by a Westborough business and app developer, Cidewalk- cidewalk.com) beginning this week and leading to Small Business Saturday. Businesses that have signed up are Yummy Mummy Bakery, Maruyama, Taco Bell, Arturo's Ristorante, Ferris Flowers, She's a Gem, and others.
"The Westborough EDC encourages residents to take advantage of the many offers made available by our local retailers, and to visit the many unique shops for holiday shopping. Residents will find quality items and excellent service without having to travel to other communities. The more we can support our local retailers, the stronger our local economy will be now and in the future," said Deborah Penta, Chairman of the Westborough EDC.
"Why leave Town to shop?," said Jim Robbins, Westborough Town Planner. "Westborough has everything that can be found elsewhere. Whether it's the many unique small businesses of our Downtown or the larger retailers along Rt 9, Westborough has it all. Shopping local is good for the Town's economy and its residents. And, a successful local economy has a multiplier effect inciting more new businesses to locate and grow in Westborough. So save the dollars spent on gas and parking fees in the city and avoid the stress of travel while helping your neighbors and local shop owners prosper this coming shopping season. Who knows, the money you save may allow you to have a festive meal at one of our local restaurants."
With Small Business Saturday, the EDC wants to encourage folks to go out and spend money at locally owned,independent, and family-owned small businesses. Westborough businesses that are interested in participating in the Initiative should contact Francisco Torres, Economic Development Coordinator, at ftorres@town.westborough.ma.us Add a comment
Last Updated on Saturday, 29 November 2014 10:57
Why did we lose Fox from Verizon FiOS???
Written by Michael (admin)
Friday, 28 November 2014 00:00
Um... turned on Fox last night... and again today.
Oops, it's gone.
See: http://youtu.be/Ds8tXZYJ2dk with this message:
"Thank you for your support as we continue negotiations.
"We're working hard to get this channel back at a reasonable price.
"Cox-owned WFXT wants millions more in fees, which will ultimately mean higher costs for our customers.
"Don't you think you're already paying enough for TV ?
"Every year, content prices go up an average of 10 percent, and we don't think that's right.
"We remain committed to bringing you the best in entertainment, service, and value.
"Thanks for being a loyal Verizon customer."
(end transcript)
Really?  They, um... couldn't have completed negotiations BEFORE losing it?
Add a comment
Last Updated on Saturday, 29 November 2014 00:15
First Annual Westborough TURKEY TROT
Written by jmr
Friday, 21 November 2014 09:04
5K Walk & Run Fundraiser Sat, Nov 22
Details at: http://www.westboroughturkeytrot.org/
The Westborough Turkey Trot will be held on Saturday November 22, 2014 at 9am. It is designed to be a community-wide event being held as a major fundraiser for technology initiatives at the Westborough Public Schools. It is a first of its kind collaborative effort with support from all of the parent groups at our schools, along with SEPAC, WEF, Westborough High School Boosters and the Westborough Fine Arts Education Association. We hope this will become an annual event in support of our schools.
The 5K Walk/Run is a loop course starting and ending at Westborough High School. The race is geared towards families and friends so feel free to grab a buddy or your kids and walk or run with us. There will be water stations and cheering sections along the route and fun activities at the High School during and after the race.
Following the 5K Race, while the parents and adult runners are cooling down, Athletic Revolution is sponsoring a Kids' Fun Run on the High School track. There will be races for kids from 3 years to 11 years broken down into heats by age groups. This race is great way to get our youngest kids active and to promote health and fitness in a super-fun way!
Please do not hesitate to contact us at turkeytrot@westboroughk12.org, if you feel you can volunteer to help out or contribute to our race in any way.
(Please note: online registration is closed, HOWEVER, same day registrations will be accepted on race day, Saturday 11/22/2014. Same day registration will be open at 7:45am on Saturday 11/22/2014 at Westborough High School. The 5k race begins at 9am and the Athletic Revolution Kids' Fun Run will begin at 10AM on the high school track.)
Here's info from their race day info:
What?
The Westborough Turkey Trot 5k Run/Walk is Saturday 11/22/2014 at 9AM. The Atheltic Revolution Kids' Fun Run is at 10AM. In addition to the road race, we will have kid's activities, vendor booths and concessions for sale.
Where/ When?
The race will start and finish at Westborough High School. Same day registration and number pick-up will begin at 7:45AM. The 5k race will begin at 9AM sharp. The Athletic Revolution Kids' Fun Run will be at 10AM on the High School track. Children will be divided into 3 heats by age groups, 3 to 5 year olds, 6 to 8 year olds and 9 to 11 year olds.
Parking
Parking will be at Westborough High School in the upper parking lot. The race course will start at the main entrance to WHS so please plan accordingly, the main entrance will be closed to cars at 8:45AM. If you are coming via GPS, use 90 West Main Street as the address and you'll see volunteers directing you to the upper parking lot.
Food
Roche Bros. has donated oranges and bananas for the race participants and the WHS Student Council will be selling concessions.ater There will be a water stop at the 1.7 mile mark at Fales Elementary School. Additionally, there will be plenty of water available for all at the finish area. Water has been generously donated by Roche Bros. and Nestle.
Prizes
We will award prizes for the top 3 male and female finishers as well as prizes for top in age groups. Prizes were generously provided by PR Running.
Please dress accordingly for chilly weather and we are fully encouraging any costumes, fun attire or turkey outfits, hats, etc…
Add a comment
Last Updated on Friday, 21 November 2014 09:17
Seventh Annual TRIVIA BEE Monday, Nov 3rd, 2014 at 6:30PM
Written by Michael (admin)
Saturday, 01 November 2014 22:25
Monday, November 3rd 6:30PM (No SchoolTuesday)
Doubletree Hotel
Westborough Education Foundation
Seventh Annual
Trivia Bee
&
Silent Auction and Raffle
Join your friends, teachers and neighbors in a battle of wits. Trivia Categories include Arts and Literature, Math and Science, Westborough History, Sports.
Teams from local businesses, organizations, neighborhoods and schools
$5 donation includes pizza, drink and dessert.

All proceeds fund educational grants to Westborough teachers for innovative programming.
The Bee is Back!  The Westborough Education Foundation hosts its SEVENTH Annual Trivia Bee on Monday, November 3, 2014 at 6:30 p.m. at the DoubleTree Hotel in Westborough.  Teams of three will compete in a fun-filled evening of trivia on topics including New England sports, popular culture, government, science, arts and literature, and Westborough history.   The winning team will be given community bragging rights and a trophy.  As always, teams are very much encouraged to let their personalities show and dress in costume to vie for the "Best Spirit" and "Best Costume" awards.
A donation of $5 per individual or $20 per family includes admission, pizza, drink and dessert.  The fun-filled night features music, 50/50 raffle and a silent auction, featuring sporting event tickets can be won. Speaking of kids, be sure to bring them – there is no school the following day!  Matt Travis of Athletic Revolution will lead kids' games and activities in between trivia rounds.
Proceeds from the event fund a variety of grants to teachers and staff across all of the Westborough schools.  The grants allow teachers to develop creative programs in literature and language, the arts, technology, social studies, science and math.   The Trivia Bee is the foundation's largest fundraising effort and brings together many groups from the community for a highly spirited competition.
Add a comment
Last Updated on Saturday, 01 November 2014 22:49
Page 1 of 30
<<
Start
<
Prev
1
2
3
4
5
6
7
8
9
10
Next
>
End
>>