Westborough Today
Blizzard? How about them power outages?
Written by Webmaster
Monday, 27 December 2010 10:36
While other parts got socked yesterday, the "home office" for Westborough.com didn't seem to get that much snow. Here's hoping y'all did well.
Kudos to officials for closing offices today, and a *HUGE* thanks to our hard-working DPW crew for their ceaseless efforts for our safety.
Happened across this great link from National Grid which displays power outages. Here's a map from from 10:30 a.m. this morning: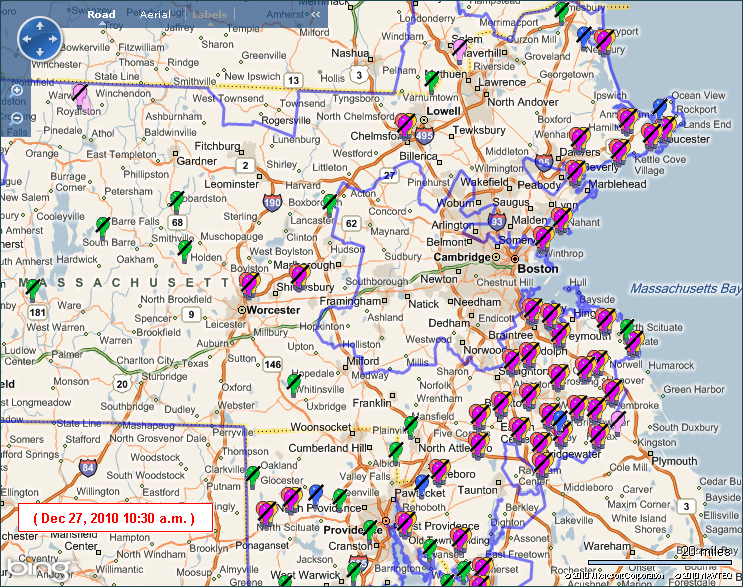 Curious if your family or friends have any power outages? You can get a idea of where the trouble spots are by visiting http://www1.nationalgridus.com/masselectric/stormcenter/ for the latest status.
The site's map is dynamic -- you can scroll and zoom it as desired -- and it's updated as new reports are received, and after services have been restored.
Add a comment
Last Updated on Monday, 27 December 2010 11:52
Read more: Blizzard? How about them power outages?
43nd ANNUAL SKI SWAP (Dec 2010)
Written by Webmaster
Saturday, 11 December 2010 00:00
WESTBOROUGH'S 43nd ANNUAL SKI SWAP

The area's biggest and best!!
at the Hastings School Cafeteria.
Saturday December 11th, 9 AM - 1 PM
Brand Name New & Used Alpine &
Cross Country Ski Equipment at Bargain Prices
Used Ski Equipment Sale will include: snowboards, ski clothing & ice skates.
ALL SALES FINAL - ABSOLUTELY NO RETURNS
For 40 years, Dexter Blois, Joe Breen, Whitey Koroski, Post 85 and others have run the Westborough Ski Swap. For the past 14 years, Explorer Post 85 has been the benefactor of this charity fund raiser. The Ski Swap is generally held the second Saturday in December from 9AM to 1PM. Skis, snow boards, skates and other sporting goods are dropped off the night before between 7 and 9PM. You tag your items and set your price. The next day, we try to sell your equipment. There are also ski vendors that sell new and used equipment. The swap opens on Saturday at 9AM, with a preview at 8:30. If your equipment sells, you get a check for 85% and 15% of the sale is a donation to the Post. If you don't sell your items, you can pick them up or consider them a donation to us.
*****************************************************************
Directions: From Rt 9, take Rt 30 west for approximately 1/2 mile. The Hastings School will be on your left. Enter the school through the main entrance on the right.
---
About Westborough Explorer Post 85
Do you know about our Westborough's Explorer Post? These folks are an amazing resource for our town and the area. Here's a bit about them:
Explorer Post 85 Emergency Service Squad is the youth auxiliary to the Westborough Fire Department. Since our inception in 1967, Post 85 has been responding to emergency calls ranging from water removal to major salvage operations beyond the time frame of the fire scene and from providing air, power and light at structure fires to rescue operations at high angles. Selected members are also certified divers and have assisted in the recovery of individuals involved in water accidents...
Please continue reading at the Who We Are link on their web site, www.explorerpost85.com.
Add a comment
Last Updated on Saturday, 11 December 2010 10:00
Second Annual Polar Plunge is coming... 11-Dec-2010
Written by Webmaster
Sunday, 21 November 2010 23:31
12/11/10... Countdown to Second Annual Polar Plunge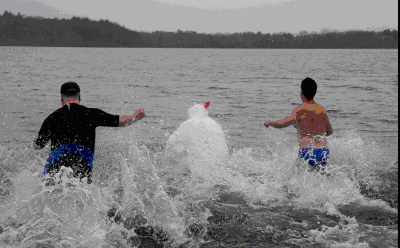 Three brave people take the chilly plunge in 2009
November 10, 2010 - WESTBOROUGH, Mass. - The Board of Selectmen unanimously approved the scheduling of the Second Annual Polar Plunge, to be held Saturday, Dec. 11, 2010 from 2 p.m. to 4 p.m., at Lake Chauncy.
The Polar Plunge is presented by In Your Shoes, a nonprofit giving circle based in Westborough. The Inaugural Polar Plunge, held Dec. 5, 2009, raised more than $10,000, with half of the monies being split between the Westborough Food Pantry and the Westborough Fuel Assistance Fund.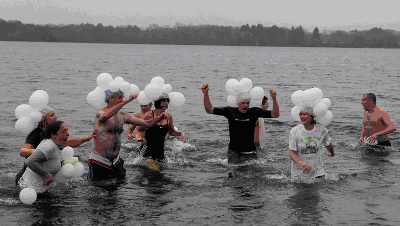 Team Bubbles from last year shows its spirit
Debi Ledoux and Terry Gavin, co-presidents of In Your Shoes were thrilled with the enthusiasm of the Selectmen, which was based on last year's successful event, including the Westborough Marching Band, a bonfire, concessions for sale, and of course, the big plunge.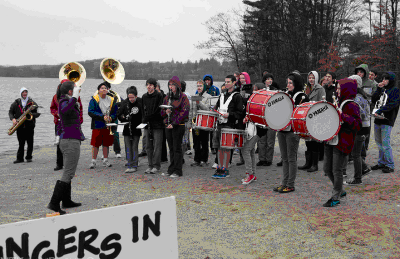 Plans are in the works to bring back the Westborough Marching Band
"Last year's Polar Plunge totally exceeded our expectations," Ledoux said. "We thought if we were lucky we might raise $3,000. Raising $5,000 wasn't even discussed. And $10,000? Raising that much just completely blew us away."

Gavin said she has been stopped many times throughout town by residents wondering if In Your Shoes was going to continue the fundraiser.

"People are very excited about it," Gavin said. "People have been asking for months when this year's Polar Plunge will be held. It's quickly turned into a huge community event."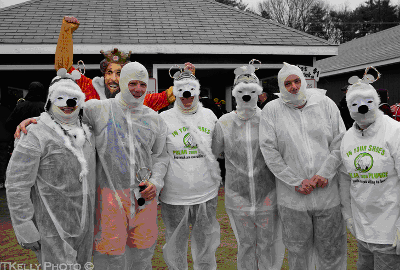 Six of last year's 48 participants, dressed in style
The format of the Polar Plunge is a simple one. People interested in taking the plunge are asked to raise a minimum of $100 in pledges from friends, family and community members who want to see them plunge into Lake Chauncy on a cold December day.

Last year former Selectman George Barrette won the Gold Plunger Award, presented annually to the individual who raises the most money through pledges. Barrette's donations included $250 from the Westborough Patrolmen's Association (WPA) because he accepted the WPA's challenge and took the plunge in a Speedo.
Ledoux said the actual Polar Plunge will be held from 2-4 p.m., with setup from noon-2 p.m., and cleanup from 4-5 p.m. Last year, despite frigid temperatures and sleet and freezing rain falling, the Polar Plunge drew quite a crowd.

"A lot of people came out," Ledoux said. "We had a bonfire and the Westborough Marching Band was there, too. We want this to be a fun family event for everyone in the whole community."

Ledoux said this year all the money raised will be split between In Your Shoes (50 percent of the total raised), the Westborough Food Pantry (25 percent) and the Westborough Youth & Family Services (25 percent).
If you would like to participate, sponsor a plunger or volunteer on Polar Plunge day, please get your form from www.inyourshoeswestborough.com or contact our Volunteer Coordinator, Judy DiOrio at judydiorio@yahoo.com.
Add a comment
Last Updated on Sunday, 21 November 2010 23:48
Free seasonal flu clinic - Dec 7, 2010
Written by Webmaster
Thursday, 18 November 2010 13:41
FREE SEASONAL FLU CLINIC
The Westborough Board of Health will be holding a free seasonal flu clinic on Tuesday, December 7, 2010, from 10:00 a.m. to 3:30 p.m. at the Westborough Senior Center, 6 Rogers Road.
The clinic is for any Westborough resident or employee
. Children 6 months of age and older are also eligible for a flu shot.
Please remember to wear short sleeves.
Residents 65 and over are reminded to bring their insurance cards.
[from the town web site, accessed 18-Nov-2010 --webmaster]
Add a comment
Major water main break off Flanders road
Written by Webmaster
Tuesday, 16 November 2010 19:25
This is a message from the Westborough DPW:
There is major water main break off Flanders Road.
The entire town of Westborough may experience dirty water for the next 24 hours.
The water main break should be repaired within 6 hours.
[Message received on our phone on Tuesday, 16 November 2010 at 6:12 PM via (we're guessing) reverse 911 -- webmaster]
Add a comment
Page 9 of 30
<<
Start
<
Prev
1
2
3
4
5
6
7
8
9
10
Next
>
End
>>