Schools
APOLOGIES!  The following links were out of date since the switchover to the new district websites during the summer of 2014.  As of Oct 12, 2014, these have been updated:
Winter Vocal Pops Concert - 2014-15
Arts
Written by Michael (admin)
Monday, 01 December 2014 17:54
Winter Vocal Pops Concert
Tuesday Dec. 2, 2014 at 7:30 pm
Westborough High School Auditorium
Free for Seniors!
$5 General Admission
Featuring:
Westborough High School A Cappella Groups:

Don't Panic!

Members Only

Harmony in Heels

A Side Note

Quintessentially Consort

Westborough High School Chamber Singers

The Gibbons Middle School Concert Choir
Add a comment
Last Updated on Tuesday, 02 December 2014 08:02
Wiley and the Hairy Man - Gibbons Middle School Theater Production
Gibbons Middle School
Written by Michael (admin)
Saturday, 15 November 2014 11:28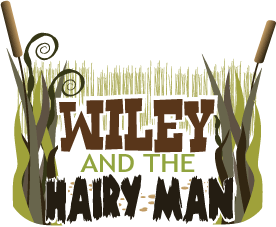 Wiley and the Hairy Man
NOVEMBER 14th @ 7:00 PM
NOVEMBER 15th @ 7:00 PM
NOVEMBER 16th @ 2:00 PM
Gibbons Theater
Come see over thirty talented students present the annual fall production.
Tickets can be bought at the door.  $12 general admission and $10 students and seniors.
What's Lurking in the Swamp?
Wiley must go out into the swamp to build a hound house for that dog of his.  But he's sure the Hairy Man is lurking nearby, and would rather stay in bed instead.  Mammy won't put up with that, though, and as the "best conjure woman in the whole southwest county" she hopes to arm Wiley with charms and chants to keep him safe.  Of course, the Hairy Man can't stand no dogs either, but that won't help Wiley.  To get rid of the Hairy Man forever, Wiley must out-smart him three times, and to do that Wiley must trick him on his own.
Adapted from the traditional southern folktale, Wiley is able to overcome the terrible Hairy Man and realize that he has the power in himself to face whatever fears may haunt him.
Written by Suzan Zeder, this rhyming play is sure to be a big hit with children age five and up.
About the Origins of the Story
Wiley and the Hairy Man traces its origins to the American South.  Long held as an oral tradition, during the Federal Writers Project of the New Deal Era, it was finally captured in text form by Donnell Van de Voort.  The story was originally set in the Alabama Swamps, but according to playwright Suzan Zeder it can happen, "anywhere there are swamps, and magic, and small frightened boys."
In Zeder's version she has changed the ending and has "written a play about a small boy with a big fear who learns to overcome his own problems himself. "  Zeder goes on to state, "I wanted to write a play about kinds of fears that children face, alone in the dark.  I wanted to write a play about magic—good magic and bad—and, most importantly, the magic that all of us have somewhere deep inside us."
Published in 1972, Wiley and the Hairy Man has been performed extensively throughout the world.  Zeder, long considered a major playwright for young audiences is also the author of Step on A Crack, Doors, Mother Hicks, and In a Room Somewhere.   All her plays are characterized by their sensitivity to the particular perspective a child has within our world, and treats them with the artistic respect they deserve.
[Above notes copied from: "Wiley and the Hairy Man - Study Guide created for the CSU Bakersfield Theatre for Young Audiences Tour", by Kamala Kruszka.  Fetched 15-Nov-2014 from: http://www.csub.edu/theatre/_files/Kruszka%20Wiley%20Study%20Guide_pub.pdf  -- webmaser]
Add a comment
Last Updated on Saturday, 15 November 2014 12:14
WHS Fall Theatre production: The Laramie Project Cycle
General School
Written by Michael (admin)
Saturday, 01 November 2014 22:49
Westborough High School Center Stage Theater Company presents a unique theatrical event: The Laramie Project Cycle. Originally conceived and created by Moisés Kaufman and the Tectonic Theater Project, The Laramie Project Cycle consists of two plays: The Laramie Project and The Laramie Project: Ten Years Later.
Together, these two plays address the harsh truths of a tragic, real life event: the murder of 21 year old Matthew Shepard in Laramie, Wyoming in 1998. Both pieces were written through a process of conducting interviews, and are told through real life characters with honest reactions to the event.The Laramie Project Cycle explores the concept of tragedy and how tragic events affect the larger communities in which they occur. The focus of Center Stage Theater Company's production is to explore how the town of Laramie has not only been affected by the Matthew Shepard incident, but also has rebuilt its identity, and retold its story in the aftermath of this iconic event that has shaped our history.

Performances of The Laramie Project Cycle will be as follows:
Part One--The Laramie Project: Friday, November 7th @ 7:30pm, Saturday, November 8th @ 2:00pm
Part Two--The Laramie Project: Ten Years Later: Saturday, November 8th @ 7:30pm, Sunday, November 9th @ 2:00pm

Westborough High School Charlotte Spinney Auditorium
90 West Main Street, Westborough, MA
Tickets: $10 students, $12 adults, 
available at the door
Add a comment
Last Updated on Friday, 07 November 2014 10:46
Notes from the interview - Amber Bock
School Committee Minutes
Written by Michael (admin)
Saturday, 28 June 2014 10:31
the following are questions and answers from the school committee minutes of March 26, 2014, as fetched from this link:
http://westborough.ma.schoolwebpages.com/education/components/docmgr/download.php?sectiondetailid=3327&fileitem=17960&catfilter=592
file titled "School_Committee_Minutes_March_26_2014_Regular_Session.docx", posted 4/30/14
AMBER BOCK
Mrs. Bock stated she is excited about the special opportunity of being a candidate for the position of Superintendent in Westborough. During her visit in the district last week she met members of the leadership team, students, and experienced the district from the "other side". She has been in education 29 years and feels a readiness to assume a superintendent role. She is a member of a dynamic leadership team in the Weston Public Schools, serving as Assistant Superintendent. Her past experience includes schools in Sutton, Newton and Wellesley, with different norms at each. The Westborough district is thriving has strong leadership, and she feels she can contribute to that.
Mr. Doret: What are some specific strategies you have implemented in your school district to foster an inclusive atmosphere that enables all students and staff to feel valued and respected?
Mrs. Bock: You are always an individual on a team. To create a program to be inclusive, you are part of a group. In Weston there are currently students speaking 16 languages. It is also part of the METCO program, with 177 students from Boston. 2300 students have an impact on creating economic and racial diversity. There is a need for a lot of different programs, including summer programs for 5 year olds. Special Education has looked at people and opened up for creative discussions. Westborough has a diversity and Mrs. Bock would look to continue that work here.
Mr. Doret: Please describe your budget philosophy and your experience with the development of school budgets. What is the largest budget that you have developed? How do you sell your budget to ensure passage?
Mrs. Bock: Mrs. Bock stated she has been a full participant in the establishment of a $36 million dollar budget. She attended all finance committee meetings to be sure how the budget fits with the mission of the district. Philosophically, the budget starts with the child in the classroom. Maintenance of service and zero based budget profile. Keep focus on how to achieve leverage/partnerships that meet the needs of the community and students.
School Committee Meeting 6.
March 26, 2014
Mrs. Sullivan: What is your vision of technology in the "ideal" district or classroom, email and at what price? How have you advanced this vision in your current position?
Mrs. Bock: The vision is of ideal technology in the classroom, well used against the core in the classroom. Always make sure conversation still is the center of the learning area. There is a difference of instruction. The current K-12 resources of appropriate amount of technology are balanced with how the teachers use it. Start designing Professional Development for support, a mix of technology for teachers and hands on for students. There are multiple uses of technology. Specific instruction- one-to-one model. High School technology should make its own best decisions for individual technology. It always has to be tied to the financial side as to what you want to do and what you can do.
Mrs. Sullivan: How do you envision the Common Core in MA working?
Mrs. Bock: The Common Core is being assimilated in the Weston classrooms. It is newly innovated learning goals that have been adopted in Massachusetts. Don't over react. We need to watch the learning and then make a decision based on that. The learning standard is innovative. Massachusetts participates at a high level already. It is not a stretch. It has special shifts that each district has to learn about. Sit down with Department Heads and Assistant Superintendents and make sound educational decisions for your community. It has been adopted at the state level.
Mrs. Levine-Kanji: What do you see as some of the biggest challenges facing schools and students and what would you do to address these challenges?
Mrs. Bock: The schools struggle with the number of directives that are going out. Address the complexity of things and put them into manageable frameworks. At this time there are five major initiatives on the schools for student complexity of life from young learners to high school. Being a young adult is such stress. You cannot separate school from the rest of the stress. Step back from technology. The college courses for the best and brightest are hard. Stay relative. Look at how we maintain relativity. Schools' strict model is very challenging now. If you poll the kids, we are not doing that well. How do we stay relevant and meaningful to them and use technology to help them learn.
Mrs. Levine-Kanji: As in many districts, Westborough's student body is comprised of many different types of students. How would you support our school leaders to meet the needs of all our students.
Mrs. Boch: It is important to support the school leaders and make sure time is well spent. The leadership team needs to work collaboratively and has to be cohesive. The role the superintendent plays as the anchor has to be purposeful, outlining how to work together. When the team comes together, it is about teaching and learning. The principal is out in the field. He needs to inform the curriculum leaders and department heads what we want done, and to let them know the focus is on teaching and learning. The superintendent is the gatekeeper.
Mrs. Hensley: In Westborough we are fortunate to have a positive, collaborative relationship among our unions, administration and School Committee. What is your experience with collective bargaining? Describe a union concern you needed to address and how you resolved it.
School Committee Meeting 7.
March 26, 2014
Mrs. Bock: It is important to know the role of mediation and a collaborative relationship with mutual respect. Recently, there was the negotiation of the evaluation model, its implementation and the presentation to the teachers.
Mrs. Hensley: Hiring, supervising, motivating and evaluating principals are critical responsibilities of the superintendent. What distinguishes a "good" principal from a "blue-ribbon" principal? What would a conversation with a "good" principal who you were trying to bring to the next level sound like?
Mrs. Bock: All conversations with a principal sound like collaborative conversations. A great principal is compared to having a building designed for continued improvement. The trick is bringing that forward to the teachers collaboratively. The leadership of the principal makes it a full collaborative.
Mr. Thompson: Special Education makes up a large percentage of any school budget. What specific ideas have you been a part of to keep special education costs down while ensuring that special education students receive a quality education? When formulating and selling a budget, how have you ensured (or how will you ensure) that various constituencies are not pitted against one another, i.e. special education and regular education, athletics and fine arts?
Mrs. Bock: Any professional design has to be seeing students and population at large. Creative support, specifically budget programs at the high school around mental health issues under the regular education area. Develop a bridge so that students can get back into the school sessions. It is cost saving because it is a regular intervention. It is more important on a daily basis for strong learners and for all learners. Have strong teachers teach to diverse learners in regular classroom. Students will be able to learn in a classroom that all are in.
Mr. Thompson: Can you give us an example of a situation where you needed to build consensus to implement something significant that was not initially embraced by a constituency (such as staff, students, parents, community) and describe how you were able to get consensus for that change?
Mrs. Bock: Your basic assumption is you never have a consensus. You have to build a consensus in order to move forward. There are multiple forums to bring people together. Put everything on the table. Mrs. Bock stated she is the type of leader comfortable with discomfort. It takes a lot of understanding. Keeping transparent is a key to gaining information from others. You need to build an honest connected relationship.
Superintendent O'Connor: What advantages, disadvantages are there to living in the community, and how do you keep decisions impartial?
Mrs. Bock: Mrs. Bock feels there are advantages to living in the community and considered the topic before deciding to apply. The school system has strength and consistency is important. We work with people's children. Every decision is personal.
Dr. Mayer: When you receive a complaint from a parent, what is the procedure you would use to resolve the issue and is this procedure the same for all levels of severity?
School Committee Meeting 8.
March 26, 2014
Mrs. Bock: The district has norms and practices. You have to gather the information and thank them for calling, expressing our goal is to validate the problem. From the validation you find the right process. There is a need to work with the principal or teacher on this. Through the process and practice, you facilitate the participants on what level. The severity of the issue dictates you call the principal right away.
Superintendent O'Connor: Westborough High School is in the process of restructuring sex education in its Health/Wellness curriculum. What is your position on opting out of a class?
Mrs. Bock: Weston has a similar policy of opting out. The district can personalize parts or whole programs for families. There should be a personal connection, and there should be a policy to support it. Meet the families halfway to support student.
Dr. Mayer: What tools would you use to obtain authentic feedback from parents, faculty, administration, support staff, advisors and athletic coaches?
Mrs. Bock: There are multiple practices. Student feedback is required by the state at the high school level. Forums, coffees, written notes and informal talks are all ways to gather information. The superintendent should encourage feedback. The students feel you understand their needs. You have to be careful about the design of communication. Think about whether different cultural groups are comfortable. Whether small groups are better. Communication is a role of the superintendent.
Superintendent O'Connor: What do you believe is a comprehensive education for a Westborough student. Please include your views around non-common core subjects like Fine Arts, PE, Industrial Tech, etc.
Mrs. Bock: You want to graduate a student who is happy, connected in communication and experience, validated in who they are. Offer creative niches where they can find themselves. Try to move them to a subject that they would not think they would be attracted to. Make sure the building schedule is such that as they progress in high school, they can see things branching out, a good array of things.
Mrs. Bock stated she had no questions for the Committee and hopes it finds the best person for the district. She thanked the Committee for the comprehensive process and providing the opportunity to get to know the district. It is an immensely talented district with an incredible wealth of individuals and creativity.
Add a comment
Westborough Fine Arts Education Association UNO "Dough Rai$er" Tuesday May 6, 2014
Arts
Written by Michael (admin)
Wednesday, 30 April 2014 20:01
Come out to dinner at the Westborough UNO at 255 Turnpike Rd. (Rt. 9 West) to help raise money for the Westborough Fine Arts Education Association, which funds scholarships and programs for K-12 students in the fine arts programs: band, orchestra, theater, chorus, dance, and visual arts.
YOU MUST COME WITH A COUPON, such as the one below: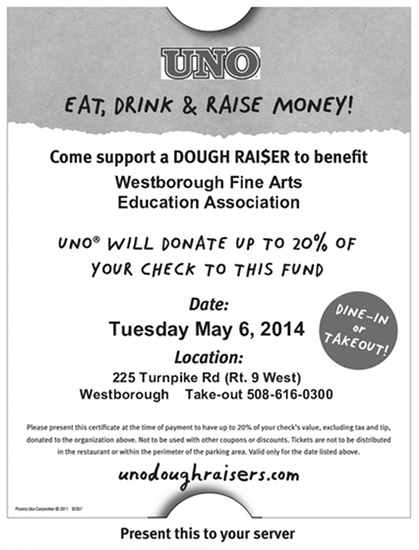 Add a comment
Page 1 of 8
<<
Start
<
Prev
1
2
3
4
5
6
7
8
Next
>
End
>>
Important Notices & Latest Articles