Public Service Announcements
Westborough Historical Society Winter Sale
Written by Webmaster
Friday, 08 January 2010 16:26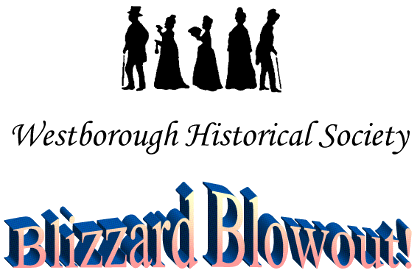 That's right! We are having a Blowout Sale on
Saturday, January 9th, from 10am to 1pm
at the Sibley House
13 Parkman Street
All purchases in the Harrington Parlor will be 25% off the normal price.
In addition, there are beautiful vintage linens, glassware, lovely dishes, and unique collectibles for sale in our Tin Room Boutique.
Amazing gifts at amazing prices!
Don't let this opportunity slip by!
Add a comment
Last Updated on Friday, 08 January 2010 17:03
HomeGoods 7th Annual Blanket Drive for Massachusetts Coalition for the Homeless
Written by Webmaster
Tuesday, 05 January 2010 22:38
This month, HomeGoods will be holding its seventh annual blanket drive to benefit the Massachusetts Coalition for the Homeless.
The home furnishings chain is asking residents to donate gently used blankets, linens and towels to Boston-area HomeGoods stores. In addition, HomeGoods will make a $10,000 donation to support the coalition's mission to end homelessness.
Donations will go to the coalition's Furniture Bank and be made available to homeless families and individuals living in shelters and who are transitioning into permanent housing.
The drive will run from this Sunday, Jan. 10, until Sunday, Jan. 24. Drop-off bins can be found at HomeGoods locations throughout Massachusetts, including the store in the Westborough Shopping Center on Lyman Street.
Please read the full article at the Westborough News site.
HomeGoods Web site may be found here.
Add a comment
Last Updated on Tuesday, 05 January 2010 22:45
Written by Webmaster
Wednesday, 02 December 2009 09:43
Calling all Westborough residents!  Please help name our new park at 169 West Main Street
The Lee Property Committee is asking for Westborough residents to name the new park at
169 West Main Street
, currently referred to as the Lee Property. Please fill out a quick
survey
and enter your thoughts on possible names for the new park.  Make a suggestion of your own, if you wish.
The survey will close on January 10, 2010.
For you Twitter and Facebook fans, if you want to spread the word, here's a short link:
http://bit.ly/6Z6ZDZ
This link is also available on the official Westborough Town
website
.
P.S.  If you haven't visited the park yet, please check it out!

Add a comment
Last Updated on Wednesday, 02 December 2009 10:01
Women with Type 2 Diabetes Wanted for Research Study
Written by Webmaster
Tuesday, 01 December 2009 22:29
Get it!
Behavioral Activation Enhanced Exercise Intervention
Seeking women with Type 2 Diabetes, who are feeling depressed and who want to exercise.
We are offering a research program that will focus on exercise and depression
Recruiting women between the ages of 21-65
All visits are free
Your participation will last for 6 weeks
Compensation is provided
The purpose of this study is to test an exercise treatment that includes behavioral strategies to improve blood sugar control in women with type 2 diabetes who are depressed and overweight.
Call our office for more information (508)856-1718 or e-mail susan.bakke@umassmed.edu
(Docket #13269)
[ See http://www.umassmed.edu/behavmed/research/getit.aspx for more info -- webmaster.]
Westborough.com PSA NOTICE 20091201 2329
Add a comment
Last Updated on Tuesday, 01 December 2009 23:34
Written by Webmaster
Saturday, 21 November 2009 12:48
From the Westborough News:
The Westborough Athletic and Social Association will hold its annual Turkey Shoot at the Westborough Knights of Columbus this Saturday, Nov. 21.
The evening events will include the raffling off of turkeys as well as special donated gifts, refreshments with full bar and appetizers. There will be dancing with music provided by one of Central Mass's premier bands, Out of Commission.
Doors open at 7 p.m. and admission is $5 per person.  Tickets can be purchased at the door or from any WASA member.
WASA is made up of 50 Westborough residents who are committed to supporting local student/athletes, youth athletic groups, and other civic organizations by providing financial assistance to accomplish their respective goals and objectives.
citation: "Local Turkey Shoot this weekend."  Westborough News 20 Nov. 2009, 1.
WASA's website is http://www.westboro.org/
Add a comment
Last Updated on Saturday, 21 November 2009 13:12
Page 3 of 6
<<
Start
<
Prev
1
2
3
4
5
6
Next
>
End
>>