Politics
REPRESENTATIVE DANIELLE GREGOIRE (Precincts 1 & 3) TO HOLD OFFICE HOURS
Written by Michael (admin)
Wednesday, 03 September 2014 22:01
State Representative Danielle Gregoire is holding office hours in the month of September for her constituents at the following locations. If constituents cannot attend office hours, they may contact Representative Gregoire or her aide, Jennifer Mercadante, at (617) 722-2460; Room 446, State House, Boston, MA 02133.
WESTBOROUGH
DATE: Saturday, September 13, 2014
TIME: 10:00 am-11:00 am
PLACE: Tatnuck Bookseller
18 Lyman Street
MARLBOROUGH
DATE: Friday, September 26, 2014
TIME: 11:00am-12:00pm
PLACE: Frank D. Walker Building
255 Main Street
NORTHBOROUGH
DATE: Tuesday, September 30, 2014
TIME: 6:00 pm-7:00 pm
PLACE: Northborough Senior Center
119 Bearfoot Road, Northborough
###
[See Precinct List by Street - fetched and saved 3-Sep-2014 from town site link -- webmaster]
Add a comment
Last Updated on Wednesday, 03 September 2014 22:12
House and Senate Pass Fiscal Year 2013 Budget
Written by Webmaster
Thursday, 05 July 2012 15:16
[Press release received from the office of Rep. George Peterson 7/5/2012 3:57 PM -- webmaster]
House and Senate Pass Fiscal Year 2013 Budget
Republican Initiatives Help Improve Overall Product
BOSTON- Representatives George N. Peterson, Jr. (R-Grafton) and Matthew A. Beaton (R-Shrewsbury) joined their colleagues in the Massachusetts House of Representatives and State Senate in passing a balanced Fiscal Year 2013 (FY13) budget, free of any new taxation proposals.
The $32.5 billion FY13 budget, which passed with bi-partisan support, includes multiple House and Senate Republican-led provisions aimed at increased oversight for government-led assistance programs, job creating initiatives through education, and enhanced Local Aid for our cities and towns.
"I was pleased to have supported the FY13 budget," stated Representative Peterson. "This bill, which we have sent to Governor Patrick, represents our ongoing commitment to no new taxes or fees, while increasing support given to our local cities and towns. We will continue to advocate on behalf of all of the residents of the Commonwealth, to ensure that their tax dollars are being put to use in an effective and efficient manner."
"While we've all been told that the recession is over, I still run into people who are still struggling to make ends meet and continue to have a hard time providing for their families," said Representative Beaton. "That's why I was happy to support this year's fiscal budget which called for no new tax or fee increases that would have ended up burdening the taxpayers of Massachusetts. I'm also pleased to see those of us in the minority party continue to push for much needed EBT reform and a more business friendly environment which will be the backbone of our economic recovery here in the Commonwealth."
"On balance, the FY13 budget represents progress on a host of issues Republicans consider important," said House Minority Leader Bradley H. Jones, Jr. "Additionally, this budget reflects a very strong commitment to our cities and towns."
"By holding the line on taxes and fees, we have sent a strong message to the taxpayers," said Viriato deMacedo, Ranking Minority Member on Ways and Means. "The Fiscal Year 2013 budget demonstrates to the residents of the Commonwealth that we as a Legislature, like them, will continue to live within our means in these difficult fiscal economic times."
The continued narrative from Democratic leaders is the need for substantive job creating legislation. By coupling this goal with the integral role that education plays in job creation, House Republicans secured provisions in the FY13 budget derived directly from their GOP Jobs Package to empower our state's vocational schools. The adoption of these provisions demonstrates a strong willingness from House Democrats to embrace common sense Republican-led jobs proposals. Not only will the inclusion of this language help to produce a highly-trained and well-rounded workforce to meet the needs of Massachusetts' employers.
The FY13 budget, which has been sent to Governor Patrick for his approval, also includes provisions aimed at helping our municipalities. By creating a new funding mechanism for the Community Preservation Act (CPA) Trust Fund, we are enhancing the Commonwealth's ability to provide a greater match for community preservation monies raised by cities and towns.
Furthermore, allowing cities and towns to fund their local CPA account with other municipal revenues, including private donations, will provide an alternative for communities that do not wish to implement the traditional 3% property tax surcharge. These measures not only sustain the Commonwealth's commitment to existing CPA communities, they encourage additional cities and towns to adopt the Community Preservation Act.
In an effort to combat ongoing deficiencies with the taxpayer-funded Electronic Benefits Transfer (EBT) program, the final FY13 budget includes provisions to limit on the type of businesses where EBT cards can be used, and to require an independent commission to develop recommendations on improving the cashless benefit system.
Additionally, to combat the cost of the nearly 20,000 EBT cards lost each month, the House and Senate agreed upon language requiring the Department of Transitional Assistance (DTA) to charge recipients for replacing lost EBT cards.
Noticeably absent from the Conference Committee language was a provision, offered by House Republicans and adopted in the House version of the budget, which would have prohibited out-of-state EBT card use, with the exception of states contiguous to Massachusetts.
With the narrative surrounding public safety and immigration becoming even more heated in Massachusetts, Republicans on Beacon Hill were instrumental in securing language to require any person registering a motor vehicle or trailer to provide both a valid social security number and license. Additional public safety measures include:
· New fines for individuals who knowingly permit a motor vehicle to be operated by a person who is unlicensed or whose license has been suspended;
· Increased monetary penalties for knowingly employing an unlicensed operator and for knowingly permitting an unlicensed operator to operate a vehicle;
· Fines for people who falsely make, steal, alter, forge, or counterfeit a driver's license or leaner's permit;
· Punishment and fine structure for people in possession of fake identification and/or permit.
Furthermore, the Governor will have the opportunity to sign into law a requirement which calls for MassHealth to utilize the federal Systematic Alien Verification for Entitlements (SAVE) system to verify the immigration status of all applicants who apply for public health benefits. This new state system must be setup and fully functional by July 31, 2013.
In an ongoing attempt to make healthcare more affordable in Massachusetts, Republicans ensured the inclusion of a provision to allow individuals to use coupons for their prescription drug purchases if they have either failed on the generic drugs or if there is no generic drug available. This will help our residents purchase certain drugs they may not have been able to afford otherwise.
As promised to the taxpayers, the budget sent to the Governor also includes two Republican-offered amendments addressing increased transparency and accountability in the public sector. Open Checkbook, established under the increased transparency guidelines in the Fiscal Year 2011 budget, will be updated to include information relative to quasi-public entities, municipalities, and non-profits that receive funding from state agencies. Additionally, non-profit organizations with over $5 million in revenues will be required to establish an independent audit committee, similar to the requirements under the federal Sarbanes-Oxley Act of 2002.
Unfortunately, not all common-sense approaches were embraced by the Democratic majority. In what has become a yearly effort by the Republican Caucus, an attempt to gradually roll back the state sales tax to 5% over the course of 3 years from the current 6.25%, with zero impact on the upcoming fiscal year, was defeated at the hands of the Democrats. While the Democratic-run House felt no need to study a proposed increase to the state sales tax just 3 years ago, the majority party was strangely insistent on studying the effects of a rollback this year. By defeating this proposal despite the efforts of Republicans, the majority party has forgone yet another opportunity to put money back into the taxpayers' pockets.
Also absent from the final version of the state budget was a Republican-crafted 11 member Special Commission charged with analyzing and reporting on the activities, practices, and potential changes to the Department of Unemployment Assistance and the unemployment insurance program. The Commission's purview was far-reaching and specific. The intent was to create transparency and affect meaningful change in the current unemployment insurance system, which has not been thoroughly reviewed since the early 1990s and has come under intense scrutiny in recent months for allegedly questionable practices.
Finally, the state's continued reliance on reserves - $400 million for Fiscal Year 2013 - to balance the budget underlines the Commonwealth's structural deficit. While we have made meaningful gains to assure the balance in the Rainy Day Fund's grows, constantly drawing on savings year-after-year to meet spending needs is a practice we cannot and should not continue to rely upon.
Having been approved by both the House and the Senate, the final version of the FY13 budget is now before the Governor for his approval.
###
Add a comment
2011 GOP Jobs Tour in Westborough, Mon Nov 7, 2011
Written by Webmaster
Monday, 07 November 2011 10:35
2011 GOP Jobs Tour to Make Stop in Westborough Tonight
BOSTON— Representatives Matthew Beaton (R-Shrewsbury) and George N. Peterson, Jr. (R-Grafton), in conjunction with Kimberly Ferguson (R-Holden), Paul Frost (R-Auburn) and Kevin Kuros (R-Uxbridge) will host the 2011 GOP Jobs Tour tonight at the Training Associates Building.
The Tour is designed to provide businesses and constituents with a platform to propose ideas for how the Republican Caucus can assist in improving the job climate in Massachusetts. The Republican Caucus hopes that the 2011 G.O.P. Jobs Tour will help provide real-life insight and feedback regarding the Bay State's current 7.3% unemployment rate.
Tonight's event will be held at:
Monday, November 7, 2011
Training Associates Building
287 Turnpike Road, Suite 300
Westborough, MA 01581
6:00-7:30pm
Doors to the event will open at 5:30pm with media availability to directly follow the event at 7:30pm.
###
[received via email from david.muradian@mahouse.gov, Monday, Nov 7, 2011 10:30 am -- webmaster]
Add a comment
Rep. Dykema Named Legislator of the Year by Today by MA VSOA
Written by Webmaster
Tuesday, 15 February 2011 20:38
Rep. Dykema Named Legislator of the Year by MA Veterans Service Officers Association
Today, Representative Carolyn Dykema (D-Holliston) was honored to receive the Legislator of the Year Award from the Massachusetts Veterans Service Officers Association (MA VSOA)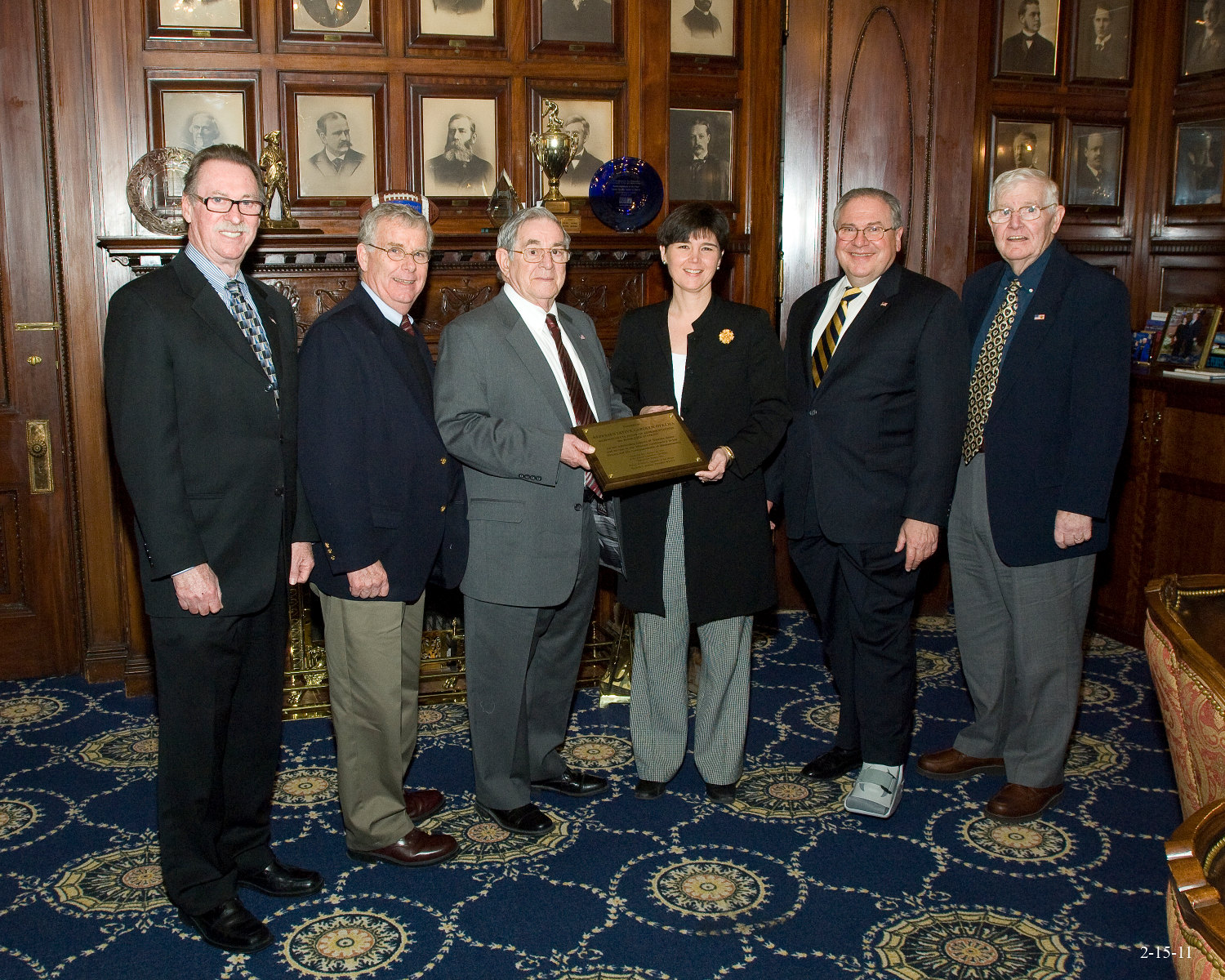 "I'm very honored to receive this award," said Representative Dykema. "Veterans Service Officers are on the front lines, every day, advocating for our veterans and their families. I'm proud to be working alongside them to support the men and women who have served our country in uniform."
Rep. Dykema was a co-sponsor and advocate for passage of the Veterans Home of the Brave bill that was signed by Governor Patrick in 2009. Provisions in the bill will increase housing and employment supports for returning service members . She also serves as a member of the Joint Committee on Veterans & Federal Affairs and on the Subcommittee on Access to Veterans Healthcare Services which held statewide hearings this past session.
"Having the legislature and a Representative like Representative Dykema helping Veterans in this Commonwealth is a great, great support and hopefully Veterans understand and know that," said Sidney Chase, the former Director of Veterans Services in Cape Cod and a member of MA VSOA.
"This is a fitting tribute to Representative Dykema for her tireless efforts on behalf of the Commonwealth's veterans," said Secretary of Veterans' Services Coleman Nee. "It is an honor to work with Representative Dykema and we are extremely grateful for her continued support both in the community and in the Massachusetts legislature."
Each city and town in Massachusetts has a local veteran service officer that is available to meet with veterans and provide assistance and support. Representative Dykema's staff is available to provide additional support for local veterans and VSOs in securing veterans benefits. Veterans in need of assistance can find their local VSO on town websites or can contact Representative Dykema's office at 617-722-2210.
###
State Representative Carolyn Dykema serves on the Joint Committee for Veterans & Federal Affairs and represents the towns of Holliston, Hopkinton, Medway (pct. 1), Southborough (pct. 2 & 3) and Westborough (pct. 2).
Add a comment
Last Updated on Tuesday, 15 February 2011 20:47
Vote Today - State Primary Elections Info 2010
Written by Webmaster
Monday, 13 September 2010 12:48
STATE PRIMARY ELECTIONS TODAY
7 am - 8 pm
Please go vote,
do your precinct proud!



POLLING PLACES
Precinct 1: Gibbons Middle School Gym, 20 Fisher Street (
Map
)
Precinct 2: Hastings Elementary School Gym, 111 E. Main Street (
Map
)
Precinct 3: Gibbons Middle School Gym, 20 Fisher Street (
Map
)
Precinct 4: Mill Pond Int. School, 6 Olde Hickory Path (
Map
)
Precinct 5: Mill Pond Int. School, 6 Olde Hickory Path (
Map
)
Precinct Numbering Map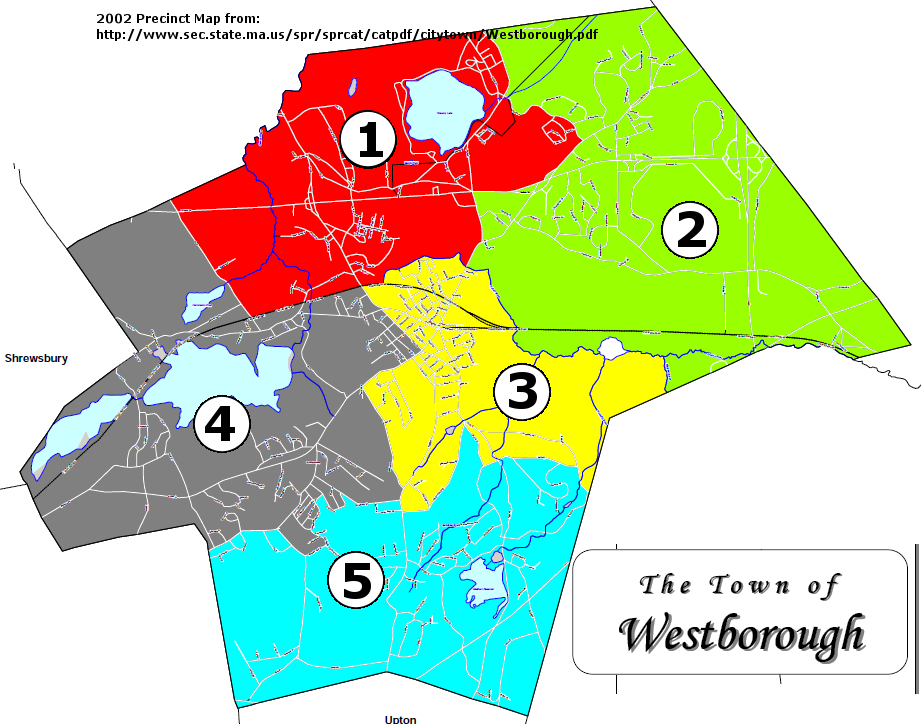 If you are not sure where to cast your vote, call the Town Clerk's office at 508-366-3020. Town Clerk's Office Hours: Mon., Wed., Thurs.: 8 am – 5 pm, Tues: 8 am – 8 pm; Fri: 7:30 – noon.
State 2010 Primary Vote
September 14, 2010
Here's some info on the main contested races:
Contested Federal Races
Position
Democrat
Republican
Third Congressional District
Representative in Congress
James P. McGovern
(uncontested, incumbent)
Robert J. Chipman
Robert A. Delle
Brian J. Herr
Martin A. Lamb
Michael P. Stopa
Contested State Races
Position
Democrat
Republican
Treasurer
Steven Grossman
Stephen J. Murphy
Karyn E. Polito
(uncontested)
Auditor
Suzanne M. Bump
Guy Glodis
Mike Lake
Mary Z. Connaughton
Kamal Jain
Worcester County Sheriff
Scot J. Bove
Thomas J. Foley
Lewis G. Evangelidis
(uncontested)
Non-contested races of Local Interest
On the state senator/representative level, there are no contested primary races for Westborough. The candidates are/will be:
Representative in General Court
District
Democrat
Republican
Precincts 1 & 4
(Eleventh Worcester District)
Dennis Leary (withdrawn, who will be replaced by Kevin Byrne)
Matt Beaton
Precinct 2
(Eighth Middlesex District)
Carolyn Dykema (incumbent)
no candidate submitted
Precincts 3 & 5
(Ninth Worcester District)
Tim Dodd
George Peterson (incumbent)
Senator in General Court
| | | |
| --- | --- | --- |
| District | Democrat | Republican |
| Middlesex & Worcester District | Jaime Eldridge (incumbent) | George M. Thompson |
Add a comment
Last Updated on Tuesday, 14 September 2010 08:37
5 Republican Challengers for the 3rd District Seat (held by McGovern-D) to Debate Each Other Tonight
Written by Webmaster
Tuesday, 07 September 2010 12:19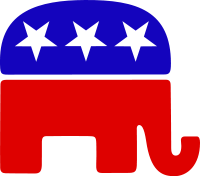 The Northborough, Worcester, Marlborough, and Worcester Seven Hills Tea Parties are co-sponsoring a critical debate on September 7th, 7:00-9:00 p.m., at Westborough's DoubleTree Hotel, 5400 Computer Drive (Rts. 9 & 495). All five Republican candidates seeking to unseat U.S. Congressman James McGovern will participate -- Robert Chipman, Robert Delle, Brian Herr, Marty Lamb and Mike Stopa.
This pivotal event will provide voters with the final opportunity to witness an interactive debate among the candidates, and to decide who should challenge incumbent McGovern in November. Mr. McGovern has run unopposed in five of the last seven elections.The Massachusetts Primary is on September 14th.
According to Mike Long, co-founder of the Northborough Tea Party; "Because this debate is so crucial, we went to great lengths to create a format that will produce a true picture of the candidates' stance on key issues – in addition to responding to prepared questions which have not been disclosed to the candidates, they will have the opportunity to query one another on issues where they have differences."
The debate is open to the general public and members of the press. Admission is free.
Source: http://northboroughteaparty.ning.com/events/mcgovern-challengers-in-last
You can get a brief introduction to the candidates by clicking here.
Add a comment
Last Updated on Tuesday, 07 September 2010 12:23
Legislature Passes Municipal Relief Package
Written by Webmaster
Friday, 16 July 2010 17:08
Legislature Passes Municipal Relief Package
Brings Cost-Savings to Communities; Facilitates Mutual Aid and Regionalization
BOSTON - July 16, 2010 – The Massachusetts Legislature yesterday evening passed a municipal relief package that establishes a statewide mutual aid agreement to allow cities and towns to share resources, permits municipalities to extend funding schedules for pension systems and allows for regionalization efforts among municipalities. The measure will give cities and towns across Massachusetts new tools and encourage innovation in managing their budgets and in these challenging fiscal times.
"In these tough fiscal times, this bill will give municipal officials more tools to trim costs, to deliver services more efficiently through cooperation among communities, and to tackle administrative problems in innovative ways in order to govern as effectively as possible in this time of lean resources," said Senator Jamie Eldridge (D-Acton), Senate chair of the Joint Committee on Municipalities and Regional Government and co-author of the bill.
Add a comment
Read more: Legislature Passes Municipal Relief Package
Page 1 of 5
<<
Start
<
Prev
1
2
3
4
5
Next
>
End
>>