Boroughs JCC 2014 Summer Programs
Westborough Today -
Recreation
Written by Michael (admin)
Sunday, 15 June 2014 22:56
from http://www.boroughsjcc.org/2014-summer-programs
2014 Summer Programs
The Boroughs JCC preschool is proud to offer summer programs for children 15 months through 7 years. These programs provide your child with fun and creative ways to explore and learn. We work with your child to encourage imagination and creativity, to build confidence and self-esteem, and to give them opportunities to cultivate their unique talents.
Trained staff lead each program, making your child's experience a rewarding one.
Most importantly, these programs are fun!
Each week, we offer programs for ages
15 months - 2.9 years and 2.9 – 7 years
Main Program:

9:00 am to 2:00 pm
Early Drop-Off:

8:00 am to 9:00 am
Stay & Play:

2:00 pm to 4:00 pm
Extended Day:    4:00 pm to 5:30 pm
Our Super Heroes with LEGO® (week 4) program is for children ages 5-7 years only.
Our optional Swim Program is available week 1 through week 8.
Add a comment
What's to Love About Westborough Massachusetts?
Real Estate and Housing -
General Info
Written by Michael (admin)
Sunday, 04 May 2014 11:28
[Submitted article by Bill Gassett]
If you are looking for the perfect balance between small town charm and modern convenience, you can find it in Westborough. With a rich history, a small population size and easy access to Boston, Westborough provides residents with a perfect mix of old and new – ideal for starting and raising a family. The town offers a range of real estate properties that can fit most budgets, giving you plenty of options for putting down roots in this historic and family-friendly area. Westborough is located in Worcester County Massachusetts and borders and borders the towns of Grafton, Hopkinton, Northborough, Shrewsbury, Southborough, and Upton.
Things to love about Westborough
History
Massachusetts is not short on history, and Westborough happily measures up. As the 100th town to be incorporated into the state – in the year 1717 – Westborough traces its history a very long way back. Evidence exists of prehistoric peoples using the nearby Assabet and Sudbury rivers as transportation avenues in search of materials for weapons and tools as early as 7,000 B.C. Settlers arrived at Lake Chauncy in 1675, establishing themselves as a borough on the west side of Marlborough.
The settlement grew into a town and eventually benefited from the building of what is now Route 9 in 1810, connecting it to Boston. The town took advantage of both the road and the railway to contribute a range of manufactured goods to the New England area and beyond. Among the largest employers in town are BNY Mellon (finance services), eClinicalWorks (healh-care records management, Integrated Genetics (life sciences), and the corporate headquarters of BJ's Wholesale Club (retail). Fortunately, though, while it managed to stay industrious up to the present day, it never did explode into a city.
Small-town feel
Westborough has a population that is only a little above 18,000 residents. This size makes it appealing to many who want to get out of the hustle and bustle of city life and enjoy the comforts of a smaller town. This small size keeps the focus on what is most important to many people – low crime rates, pleasant environments, good parks and nature access and quality schooling. You can get to know your neighbors here with only a little effort and can expect to become part of the community if you stick around.
Access
As much as people want the ease and comfort of a small town, not everyone wants to be isolated from all that cities have to offer. Things like employment, shopping, entertainment, dining and nightlife are all in full swing in Boston, less than 30 miles away from Westborough. And best of all, the town took the needs of its residents to heart in its planning and building. Westborough offers a commuter rail station to give residents reliable access to both Worcester and Boston. Park your car, hop on a train and you will be there in no time.
Water
While there are a number of things you can do in Westborough, some of the most popular hobbies and pastimes involve local water sources. Both the Assabet and Sudbury rivers are located nearby, as are a number of different lakes and ponds. Some of these include the Westborough Reservoir, Mill Pond, Lake Chauncy and Lake Hoccomocco. During the summer, people from all around Westborough and beyond enjoy the waters of Lake Chauncy for a number of recreational activities, including fishing, swimming and boating. It even offers a public beach during the warmer summer months for sunbathing and picnics.
Quality real estate
One of the areas where Westborough really shines is real estate. If you have the money to buy a house and are looking for what Westborough has to offer as a town, you can probably find something to fit your budget and your lifestyle. The town really shines in its "subdivision" neighborhoods. These neighborhoods were created with the homeowner in mind – some by local craftsmen and others by quality national builders like Toll Brothers. When you buy in this type of neighborhood, you are investing in a home that should only grow in value as people look for welcoming neighborhoods in a small-town setting. You will also benefit from the unified look and feel that only a custom neighborhood can offer.
In fact if you are considering relocating to Westborough and want to work with one of the top Realtors in Westborough MA get in touch. If you are considering selling your home, let my excellent online marketing skills help get the job done. The are very few real estate agents who provide the kind of online marketing you will receive for your home. Selling real estate today is all about creating a dominant visibility package. This is what I love to do for those who are moving in or around Westborough! Westborough real estate has a lot to offer so I would love to show you around town!
Westborough has grown by leaps and bounds in the past few decades, which means you can find affordable village colonials as well as higher end homes, depending on your preference. Whichever you choose, though, you will have easy access to all of the perks that living in Westborough brings.
Award-winning
The exceptional quality of Westborough has not gone unnoticed. The schools stand out as some of the best, even garnering top accolades from Standard and Poor's School Matters in a 2004/2005 study. The Westborough Public School System was found to be one of the top school systems in the state. Money Magazine also recommended Westborough in its 2005 survey of Top 100 Best Places To Live. The town was ranked 36 out of 100 – not too bad for a small town of only 18,000 residents. Money Magazine listed both the school staffing levels and the financial support given to the area school system as top-notch.
Considering that over 95% of high school students graduate and that most go on to attend four-year colleges after graduation, the efforts of the town to foster education appear to be working.
Summing up...
These are just a few of the things that Westborough Massachusetts has to offer. Come take a look and learn even more about the Westborough MA real estate market!
Bill Gassett
RE/MAX Executive Realty
22 South Street, Ste. 203
Hopkinton, MA 01748
The #3 RE/MAX Agent In New England 2013
The #1 RE/MAX Agent In Massachusetts 2013
RE/MAX LIFETIME ACHIEVEMENT
508-435-5356 (work)
508-435-5550 (fax)
www.sellmyhomeinmetrowestma.com
Follow me on Google+
https://plus.google.com/+BillGassett/
Add a comment
Westborough Fine Arts Education Association UNO "Dough Rai$er" Tuesday May 6, 2014
Schools -
Arts
Written by Michael (admin)
Wednesday, 30 April 2014 20:01
Come out to dinner at the Westborough UNO at 255 Turnpike Rd. (Rt. 9 West) to help raise money for the Westborough Fine Arts Education Association, which funds scholarships and programs for K-12 students in the fine arts programs: band, orchestra, theater, chorus, dance, and visual arts.
YOU MUST COME WITH A COUPON, such as the one below: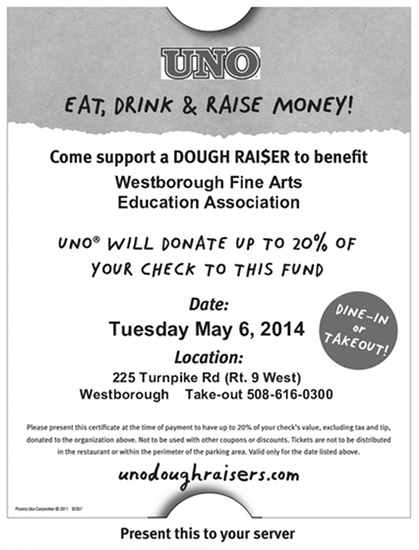 Add a comment
Big turnout for state hospital reuse planning charrette
Westborough Today -
General Town News
Written by Michael (admin)
Saturday, 12 April 2014 21:57
Over eighty people gathered this past Saturday at the Westborough High School cafeteria, to engage in a lively discussion about the possibilities for the future use of the state hospital property.
Both Westborough residents and town officials met on a gorgeous spring morning to engage in a "charrette", which is "a planning tool with professional facilitators that work with stakeholders to explore possible redevelopment scenarios."
The original press release stated that charrettes "... take place in many disciplines, including land use planning… A successful charrette promotes joint ownership of solutions and attempts to defuse typical confrontations between residents and developers.  Residents who participate will get an opportunity to provide input into the planning process."
This property is a 93-acre area around Lake Chauncy, abutting Northborough, and is currently in legislative process which will enable the Town of Westborough to formally purchase the parcels.  The proposed bill H.3979 was recently favorably reviewed per a press release from our state legislators.
Among the town officials attending included Town Manager Jim Malloy, Town Planner Jim Robbins, Town Clerk Wendy Mickel, and Selectmen George Barrette, Denny Drewry, Leigh Emery, and Ian Johnson.
The Planning Board had representation, with members Lester Hensley, Ed Newton, Jr., and Charles Diamond in attendance.  Their presence ensured their ability to hear their neighbor's comments and ideas about the property.
Also attending were some members of the Conservation Commission, the Economic Development Committee, and WestboroughTV -- who recorded samples from the morning for later sharing with the town.
Dr. John R. Mullin from UMass Amherst welcomed everyone and kicked off the session, explaining that attendees should treat the day as a "clean slate", that is, starting as fresh as possible and setting pre-conceived notions aside.  He shared a few  ground rules, such as "no history" i.e. you can't say "we tried that in '48 and it didn't work"; and that participants should "check our negativity at the door."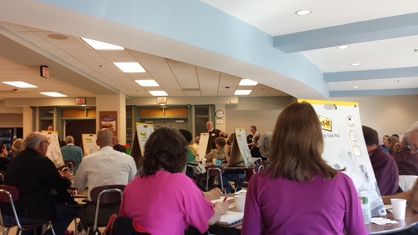 Welcome and kickoff
Part 1 - SWOT Analysis
Attendees were assigned to one of fourteen tables of five to six people. At each table were printouts of a map of the 93-acre property, markers, and flip-chart paper for recording ideas.  Each group was asked to select a facilitator, scribe, and spokesperson for the overall session. One additional rule was that the spokesperson for a group could not be a town official.
SWOT exercise begins
And within minutes, the first exercise was described, and people were off and running.  Each group was assigned to discuss and list items for a SWOT analysis about the property.  SWOT is an acronym for "Strengths, Weaknesses, Opportunities, and Threats".  As explained by co-facilitator Dr. Zenia Kotval from Michigan State University, Strengths and Weaknesses are attributes about the current state of things with the property; whereas Opportunities and Threats are attributes related to future possibilities with the property.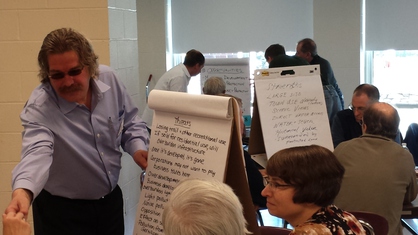 Recording SWOT on flip-charts
Toward the end of the first hour, the groups were instructed to select their "top three" items in each of the four categories.  This was intended to begin building consensus within each group on the most important things, which then served as the specific speaking points for each group's subsequent presentation.

One by one, each group's spokesperson brought their flip-chart in front of the overall group, and presented their top three SWOT items in each category.   After each spokesperson shared, Dr. Mullin would ask a single probing or clarifying follow-up question, such as "in the next 10 years, what is your personal vision of the property? " or "what's your biggest concern (or fear)?"  These questions often prompted a thoughtful, authentic response that punctuated the resident's hopes or concerns, such as "the open space parts are preserved", "municipal needs are served first before commercial needs", "let's not rush, but take it slow and steady", and "make it safe".
As the presentations went on, it was both surprising and encouraging to hear a large number of of the same ideas emerging from each group in the SWOT categories. Here are some examples from group's presentations:
STRENGTHS
Scenic nature & current open space and trails
Lake and beachfront
Location
Multi-use zoning
WEAKNESSES
Unknown condition of buildings, possibly deteriorating
Infrastructure needed - sewer & water
Commonwealth's Division of Youth Services (DYS) detention facility directly adjacent to property
Lyman street - narrow, no sidewalks
OPPORTUNITIES
Job creation and tax revenue
Preserve open space
Meeting facility / community center / rec center
Could be used for future municipal needs or services
Passive and active recreation
Affordable and/or over 55 housing
THREATS
Security after the state leaves, liability
Residential development
Traffic burdens on Lyman & Rte 9 intersection
Possible hazardous waste
Need solution for runoff during development (to protect the lake)
Cost of project
Unknown Northboro development plans
Part 2 - Action Steps
The SWOT report-out by all the groups took about 45 minutes, after which the next session began with the charge to think about specific action steps the town can take, across three time-frames: in the next 90 days from today, the next year, and the next 2-5 years. Groups were asked to identify three items for each time-frame.

These items were also entered onto flip-chart papers, which were all posted to the wall for everyone to see.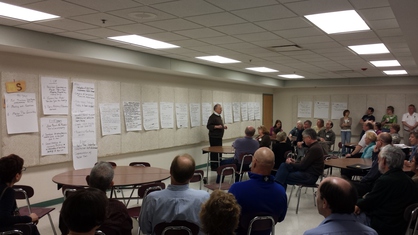 Posted action steps
One-by-one, each group's spokesperson was called up to read out the group's items.  Again, a large number of shared ideas were identified, with top themes involving items such as: communications, more public involvement, assessment of the property, master planning, and truly starting something or breaking ground for development before the fifth year was up.
Dr. Mullin would again ask a follow-up question to each spokesperson after they were finished, such as "what's the most important thing?"
Below are some examples of the flip-chart items for  "What should the town do in the next…"
… 90 days?
Create and advertise a reuse committee
Complete the formal legislative acquisition of the property!
Summarize suggestions on website
Engage and educate the public "so people can understand what we got"
Processes for citizen participation
Create development timeline for pre- and post-purchase of the property
… 1 year?
Most important point: a full inventory to know what we're dealing with.

Assess infrastructure needs

Create a conceptual master plan with identified critical success factors
Quarterly reports to selectmen, and on Westborough TV

Meet with Northborough about their plans

Reach out to youth community for their input
Create an economic model to assess alternatives

Reach out to other communities to learn what's worked and what's not

Begin hunt for other funding sources
Route 9 and Lyman St. interchange in place; plans figured out
… 2 - 5 years?
A more factual master plan.  What's clear about town needs, vs. what's available for development
Issue RFPs based on master plan
Develop active & passive recreational use
Fireworks on Lake Chauncy for the 300th town anniversary celebration!
Understand traffic impacts
Short-term development projects possible
Begin infrastructure improvements:  water, sewer, gas, electric
Actual ground-breaking
By 12:30 PM, the call out of action steps was completed, and Dr Mullin then offered to take questions and comments.  But not without first selecting people at random, and asking them direct questions such as "what struck you about this morning?" or "what's the strongest thing that's come out of this?" 

Responses mentioned:
consensus and alignment on many of the items that were identified, along with generating "a lot of unique ideas".
protection of open space of land and recreational use

it was good to see that something of substance was identified.. and that people are looking at what's missing in our town

the focus on looking at the impact of quality of life, and not trying to squeeze the last dime out of the property

lack of shared knowledge about the site

concerns about deciding too quickly, and also not stalling; take it slow, but steady
Dr. Mullin said that he thought he heard consensus about a "master plan in 1 year".  When asked "How have you seen other towns do this?  What committee makeup makes this master plan work?", he replied that giving it to the Town Planner, and the [Zoning - Ed.] Planning Board, is "too much".  A comprehensive committee needs to be involved, and that a comprehensive conceptual master plan in one year is indeed possible.  He also acknowledged that this [view] is "one model" for approaching this work.

He also shared that another critical component of success is citizen's input, along with using professionals.  We need both, he said, to "get the best minds together.  This is one we've worked very hard on."
Urban Land Institute opportunity
Earlier in the meeting, the prospect of engaging with the Urban Land Institute was explained by Town Planner Jim Robbins.  The Urban Land Institute (uli.org) is a professional organization of planners who can come to town with a "fresh set of eyes" to spend a full day with the site, take the results of today's planning charrette, and create three to four scenarios and specific designs for what development could look like.
This would be an overall cost to the town of about $2,500 - $3,500, but it produces, as Dr. Mullin said, about $50,000 worth of value.  Note that any arrangement with the ULI this is in no way any kind of binding study; it's an opportunity to engage with design professional in the industry to help us understand our options and realities.


Final Wrap-up
Finally, attendees were given three "votes", to indicate which action items appealed to them. The one restriction being that they couldn't vote for their own items.  Votes were indicated by placing a colorful 'sticky tag' on the flip-chart paper next to the selected item.  And yes, one could spend all three of his or her votes on the same item, if wanted.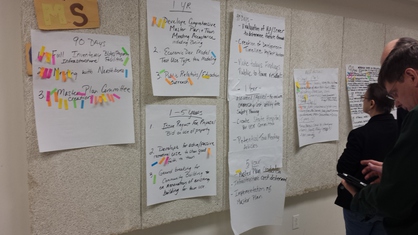 Voting for top action items
A "concise report" is from Dr. Mullin is expected in two weeks or less.
Add a comment
Spring 2014 WHS Gala Concert and Exhibition
Schools -
Arts
Written by Michael (admin)
Thursday, 03 April 2014 18:55
Annual 2014 Spring Fine Arts Gala Concert and Exhibition
Thursday, May 1, 2014
Performance and showcase of students enrolled in programs throughout the Westborough High School Fine Arts Department.
Exhibitions will feature visual arts such as painting, drawing, and digital photography.  The concert will feature dance and theater groups, along with multiple choral, band, and orchestral ensembles.
This is a great showcase event, and is the single fundraising show of the year for the Westborough Fine Arts Education Association.
Schedule
5 - 9 PM Silent Auction featuring gifts, goods, and services from local area merchants.  Complimentary appetizers and desserts.
5:30 PM - 7:30 PM Visual Art display in lower auditorium lobby; Small ensembles performing in the upper and lower auditorium lobbies
6 - 7 PM Small Ensembles play in uppper and lower auditorium lobbies
7:30 PM Concert in the auditorium featuring all performing ensembles
Due to the limited and assigned seating, and anticipated demand for tickets, we recommend you reserve your seats in advance of this performance. (Please note that this event is NOT included as part of the Family Concert Pass Series, as it is a WFAEA event.)
See here for PDF ticket purchase form.
[4/30 UPDATE: included time and location for small ensembles. -webmaster]
Add a comment
Page 6 of 78
<<
Start
<
Prev
1
2
3
4
5
6
7
8
9
10
Next
>
End
>>