Opinions and Editorials
Good-bye MCAS? Hello (Lower?) National Standards and Federal Control of School Curricula?
Written by Webmaster
Friday, 23 July 2010 00:12
Have you heard about the move to drop MCAS standards and curriculum in favor of the national "Common Core Standards in English language arts (ELA) and mathematics". (See previous article, below).
This issue was discussed Thursday night on the "Nightside with Dan Rea" show on WBZ, which featured a conversation with Jamie Gass, Director of the Center for School Reform, of the Pioneer Institute.
This vote to adopt these standards is not without controversy and concern. Consider the first part of a report from Boston's Pioneer Institute, titled "National Standards Still Don't Make the Grade - Why Massachusetts and California Must Retain Control Over Their Academic Destinies" which says (emphasis mine -- webmaster):
"In conclusion, if California and Massachusetts adopted Common Core's standards for their own, the intellectual demands on students in the areas of language and literature would be significantly weakened. Adopting Common Core's standards would also weaken the base of literary and cultural knowledge needed for actual college-level work now implied by each state's current or draft standards."
Another voice expressing uncertainty in this direction is found in the BU article "Will National School Standards Dumb Down Mass.? SED prof says trade-off could be worth it to help the country".
On the other hand, the press release from the Commonwealth's Board of Elementary and Secondary Education (BESE) states "Curriculum experts and educators from across the Commonwealth reviewed and submitted comments on drafts that were incorporated throughout the development process to ensure that the expectations set in the final versions met or exceeded the state's strong standards for students."
Who has the correct analysis? Will the national standards be worse, or at least as good as (if not better)? Pioneer Institute? Or the Board of Elementary and Secondary Education?
In fairness, the BESE press release also states: "Later this summer the ELA and mathematics curriculum framework review panels will be reconvened and charged with identifying unique Massachusetts standards to augment and strengthen the Common Core. This will be brought to the Board this Fall for final approval."
(Huh? If these national standards are so great, why would we need to "augment and strengthen the Common Core"? However, let's not look a gift horse in the mouth. Let's work to ensure that parents' and educators' voices are well-heard by the curriculum framework review panels, and let us demand superlative academic standards for our children.)
The following quotes come from NECN in their article "Mass. board unanimously approves national education standards"
Paul Reville, MA Secretary of Education: "It's good for kids, it's good for teachers, it's good for the Commonwealth, it's a great day."
Charlie Baker (Republican gubernatorial candidate):"By hitching our wagon and our future to some national consortium that is untested. This move has the potential to erode our gains."
Governor Deval Patrick: "And I am proud to be supporting standards that will raise the standard for all our children."
Mitchell Chester,MA Commissioner of Education: "I can't imagine having done a more thorough job of considering these standards and making sure they are right."
(Webmaster note: the final versions of the released Core Standards were made available only 6 weeks ago -- nearly 500 pages of PDF documents. Why couldn't our Board of Education at least be like Washington state, which has provisionally accepted them? Washington state set for themselves the goal of creating a report for their legislature by January 2011 to "include a comparison of common core and the current state learning standards for reading, writing and math, and an estimated timeline and costs to the state and districts to implement them.")
Additional formal statements, as reported by NECN:
Statement from the Governor:
"Massachusetts leads the nation in public education. Our children perform in the top tier, not just in the country but in the world. I want to keep it that way. That means we have to continue to raise the bar. That's why we passed the education reform bill, to close the achievement gap once and for all. And that's why I support the Board's decision to sign on to the national Common Core standards. These standards will be as strong as the ones we already have in place, and in some cases will be stronger. And they are consistent with our MCAS, which has been and will continue to be a key element of our progress. Common Core will enhance the Commonwealth's already rigorous standards."
Statement from the Lt. Governor:
"The overwhelming body of evidence and research has concluded that Common Core will add tremendous value as Massachusetts remains committed to ensuring every student receives access to an excellent education. Today's important action by the Board of Elementary and Secondary Education means that Massachusetts students will stay at the top as we continue to institute increased standards and expectations and strengthen current rigorous assessment tools, like the MCAS, which will remain a requirement for graduation."
Add a comment
Last Updated on Friday, 23 July 2010 01:39
About the spring 2010 zoning articles...
Written by Webmaster
Tuesday, 11 May 2010 12:00
Hello, fellow Westboronians -- here's my explanation of the zoning articles coming up at the spring 2010 Annual Town Meeting for Westborough.
You may find a copy of the formal 2010 warrant (mostly) re-entered here as individual articles for easy viewing, on Westborough.com. (Some charts and tables are only available in the official copy)
The main zoning articles are:
#18 - Nathan Fisher House Rezoning. The building is currently listed as a historical building, and with that comes restrictions on how the building should look. Nobody's going to be tearing it down.
The problem is that it's zoned for town/municipal use. Sure, we could put town offices in the building... but that would be prohibitively costly. Instead, the current plan is to sell the property, and make some money for the town.
But, given the current town/municipal use zoning -- no commercial buyer would be interested in such a property, as this zoning limits what they can do.
INSTEAD, the proposal is to change the zoning to "Highway Business", thus bringing it into line with the other types of uses you see on Route 9. This zoning change would make the property much more attractive (and valuable!) to potential buyers. We'd get more money for the property, and -- since the historical restrictions will remain in place -- the exterior of the building will remain..
#30 - Zoning Bylaw Industrial D (ID) Overlay District Amendment. This proposal is intended to create more options for the eastern end of town off Route 9. Where we currently have certain "Industrial B" zoning, this "overlay district" retains IB zoning (for those who want it) while at the same time providing for two new options for building, namely: 1) an increase in height from 4 to 6 stories, and 2) a decrease in the open space for required for parking [because additional spots are needed, to help accommodate for the demand created by 2 new stories.)
Again, this proposal is intended to increase value of the Industrial B lots on the eastern side of town (east of Flanders).
An important facet of this new zoning is the requirement of a special permit from the Planning Board in order to take advantage of these new options. A builder is required to pursue certain objectives such as low-impact or other "green" development techniques (see section 5452 for formal wording):
Maximize opportunities for walking and bicycling
Incorporate best practices in energy efficient design, environmental protection, stormwater management, LEED (Leadership in Energy and Environmental Design) criteria and low impact development (LID) techniques wherever practicable.
Retain existing mature vegetation wherever possible, including winding of sidewalks and creative siting of structures.
Use native, non-invasive, landscape materials for buffers that are hardy for New England weather conditions and disease resistant.
Integrate as appropriate a mix of trees, shrubs, and perennial or annual flower beds to the proposed use of the site.
#31 - Senior Housing Overlay District - (Planning Board). Attendees last 2009 Spring Town Meeting may recall "Article 28, Zoning Bylaw Amendment" (i.e. the "Senior Housing Overlay District") which was not passed, and instead referred back to the Planning Board. This re-proposed article removes the main objections that had been raised with the language regarding the authority to waive dimensional requirements.
In 2009, the defeated article stated "[Section 5320] .. The Planning BOard may vary the dimensional and parking requirements of this section, including open sapce requirements..."
This year's article removes the mention of dimensional requirements: "[Section 5320] ... The Planning Board may modify the density, parking and open space requirements..."
This proposed article returns the authority for addressing variances in dimensional requirements to the Zoning Board of Appeals -- a desire expressed at last year's town meeting.
#32. Mixed Use District Bylaw Amendment - (Planning Board). Residents may recall how the Westborough State Hospital is being closed and the property will become "surplus". Because the underlying parcels do NOT presently have zoning restrictions, the town is presently at a big disadvantage.
The lack of underlying zoning creates an "absence" of value, as evidenced by the state not reimbursing the town for usage of that land. In fact, we have indeed lost over $50,000 in payments that could have been made to the town in the past from the state.
If the land were to be zoned as proposed, then any prospective buyer would have the ability to specifically assess the value of that land for particular intended development purposes. This in turn would create an incentive for the state to put the land up for sale -- where they would be able to receive a better return -- rather than to freely put it up for offer as surplus to other state agencies, and receive nothing in return.
Also note, that if the land does transfer to other state agencies, it may be put to any use. The town does NOT have a say, if it remains under state control.
The creating of zoning for this area, however, is a well-understood method to "create value" for the land, and thus increase the chance that the state's best use is to sell the land to a private developer. Then then town's interests, as having been expressed by the underlying zoning, are protected as we are able to control how this land may be used.
---
Corrections and comments welcome.
Add a comment
Last Updated on Tuesday, 11 May 2010 13:22
Woohoo! Congrats to the Bruins & Celtics!
Written by Webmaster
Tuesday, 27 April 2010 21:58
Yeah! CONGRATS to the Boston Bruins and the Boston Celtics for each making it to Round 2 of their respective playoffs!!!
Add a comment
Spring 2010 Flooding - were you hit?
Written by Webmaster
Tuesday, 30 March 2010 23:43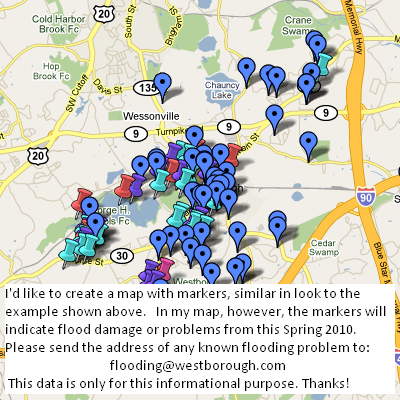 "Historic" -- that's what the news this evening called our March rainfall this year.
I'd like to compile a list of "Westborough flood incidents" from this Spring, and create a visual record of them using Google maps, like this example.
Maybe this data will help our town planners.
Have you had or seen flood damage this spring? If so and you'd like to contribute, please send the address or a description of the location to: flooding@westborough.com.
As we receive data, we will post an image to this article. Many, many thanks!
Add a comment
Last Updated on Tuesday, 30 March 2010 23:55
Please Help Keep Classical Music on the Air!
Written by Webmaster
Thursday, 18 March 2010 07:51
Do you love classical music? Former radio station WCRB, now part of WGBH at 99.5 FM, is holding a one-day fundraiser today. Did you know they've shifted to a non-commercial, listener supported public radio format, after having been bought by WGBH last year?
Please help keep this wonderful programming alternative on the air. They're all classical, all the time. And, I must say, the programming has really gotten much fresher, too! I'm constantly discovering new pieces, in addition to hearing the great favorites.
Plus, it's such a terrific feeling when your child hears something on the radio and goes, "Hey! I know that -- we're playing it in school!"
So, Westborough, let's support the arts this way, as well. Any contribution is welcome and will help. Today only, March 18th, 2010.
You may call 888-995-9279 (888-995-WCRB), or go to http://www.995allclassical.org.
And, do take a listen at 99.5 -- on your radio, streaming from their web site, and also simulcast on WGBH 89.7's HD2 channel.
Michael Hyde
Westborough
Add a comment
Last Updated on Thursday, 18 March 2010 08:02
Page 3 of 5
<<
Start
<
Prev
1
2
3
4
5
Next
>
End
>>