Opinions and Editorials
Please come to special town meeting Tuesday 7-Aug-2012
Written by Webmaster
Thursday, 02 August 2012 21:14
[An open letter received from Lester Hensley, Chair of our Westborough Economic Development Committee. -- webmaster]
Dear Westborough Residents --
On Tuesday, August 7th, there will be a Special Town Meeting at 7pm at the WHS Auditorium. On the warrant will be just two Articles -- so the meeting should be short. The Articles being put before the voters are part of a broader economic development and job retention strategy for the Town of Westborough. Summer is a cherished time, but 50 people are required for a quorum at this meeting. If you are in town next week, I hope you will consider coming to town meeting to learn more about the the articles and cast your vote.
Below is some optional background and brief response to some of the frequently asked questions about the articles on the warrant.
Background:
Westborough's Economic Development Committee (EDC) has been working since 2008 toward a goal of moderating our residential taxes by shoring up and expanding our commercial tax base. We do this by identifying existing businesses in Westborough that might be looking to expand or to leave, and encouraging them to stay and to grow right here in town. We also do this by proactively engaging new businesses who are looking at space in our area and convincing them that there is no better choice than Westborough.
One of the tools we have for retaining and attracting business and jobs is Tax Increment Financing or a "TIF". In short, in return for a company's commitment to stay and grow and pay taxes here in Westborough over a given period of years, we can offer a modest (and declining) adjustment to the taxes on their incremental growth. Even more important to the company, by being granted a TIF at the local level, they then qualify for state incentives to finance their growth and keep jobs right here in Massachusetts. Two companies will be committing to Westborough through a 15 years TIF agreement at this special town meeting.
FAQs

Q. Why a Special Town Meeting now, in the middle of summer, to act on this?
A. Time is of the essence when competing to retain or gain businesses in Westborough. Neighboring towns with City Councils can approve TIFs at regularly scheduled meetings. We need a quorum of 50 at a Special Town Meeting to approve a TIF. The timing of this meeting would allow these two companies to qualify for a state program this Fall.
Q: Why 15 years? and how much of a tax incentive would we be giving?
A. The basic tax revenues from the current value of these businesses would remain the same. The tax incentive Westborough is offering starts at 50% of only the added value of expansion. So with these agreements we'd be collecting new revenues immediately. The incentive declines by 10% per year and then remains at 10% from years 6-15. The 15 year timeframe keeps the business qualified for State incentives on future expansion and gives them incentive to grow again in Westboorugh instead of looking elsewhere.
Q. What accountability does the business have to Westborough?
A. These agreements include job creation targets as the company grows. If the company does not meet its job creation goals, then the incentive can be revoked by the Town and we have the right to recover what the company gained through tax savings.
For more information on the specifics of the agreements, you can come and hear our presentation at Town Meeting, or you can read about them on the Town Manager's blog at this link.
Thanks so much for your consideration, and hope to see you at Town Meeting on Tuesday!
Best regards,
Lester Hensley
Chair, Westborough Economic Development Committee
Add a comment
Last Updated on Thursday, 02 August 2012 21:48
One last charitable donation request for 2010: help out Wikipedia
Written by Webmaster
Wednesday, 29 December 2010 21:13
Hi folks,
I just happened across an appeal for funds from the folks at Wikipedia. They're near the end of their 2010 fund-raising and have almost reached their goal of 16 million dollars (they've raised $14 M to date!)
Did you know that Wikipedia is run by a non-profit organization?
As the year winds down and we consider our blessings here at Westborough.com, I thought that it'd be nice to help out the folks at Wikipedia, and sent them a $25 donation. I figure there's got to be a number of Westborough residents who occasionally benefit from Wikipedia, and I figure this donation thus indirectly supports our local community.
One nice thing about Wikimedia Foundation: they're a fully qualified 501(c)3 non-profit, and from what I understand, donations are fully tax-deductible on your US federal taxes! (Of course I have to now say, "please consult your own tax professional about this." :-)
If this is something that may appeal to you, I invite you to check them out before we say good-bye to 2010.
Here's the nice thank you letter I received:
Dear Michael,

Thank you for your gift of USD 25.00 to the Wikimedia Foundation, received on December 30, 2010. I'm very grateful for your support.
Your donation celebrates everything Wikipedia and its sister sites stand for: the power of information to help people live better lives, and the importance of sharing, freedom, learning and discovery. Thank you so much for helping to keep these projects freely available for their more than 400 million monthly readers around the world.

Your money supports technology and people. The Wikimedia Foundation develops and improves the technology behind Wikipedia and nine other projects, and sustains the infrastructure that keeps them up and running. The Foundation has a staff of about fifty, which provides technical, administrative, legal and outreach support for the global community of volunteers who write and edit Wikipedia.
Many people love Wikipedia, but a surprising number don't know it's run by a non-profit. Please help us spread the word by telling a few of your friends.

And again, thank you for supporting free knowledge.

Sincerely Yours,


Sue Gardner
Executive Director

* To donate: http://donate.wikimedia.org
* To visit our Blog: http://blog.wikimedia.org
* To follow us on Twitter: http://twitter.com/wikimedia
* To follow us on Facebook: http://www.facebook.com/wikipedia


This letter can serve as a record for tax purposes. No goods or
services were provided, in whole or in part, for this contribution.
The Wikimedia Foundation, Inc. is a non-profit charitable corporation
with 501(c)(3) tax exempt status in the United States. Our address is 149 New Montgomery, 3rd Floor, San Francisco, CA, 94105. Tax-exempt number: 20-0049703
Add a comment
Last Updated on Wednesday, 29 December 2010 21:44
Blizzard? How about them power outages?
Written by Webmaster
Monday, 27 December 2010 10:36
While other parts got socked yesterday, the "home office" for Westborough.com didn't seem to get that much snow. Here's hoping y'all did well.
Kudos to officials for closing offices today, and a *HUGE* thanks to our hard-working DPW crew for their ceaseless efforts for our safety.
Happened across this great link from National Grid which displays power outages. Here's a map from from 10:30 a.m. this morning: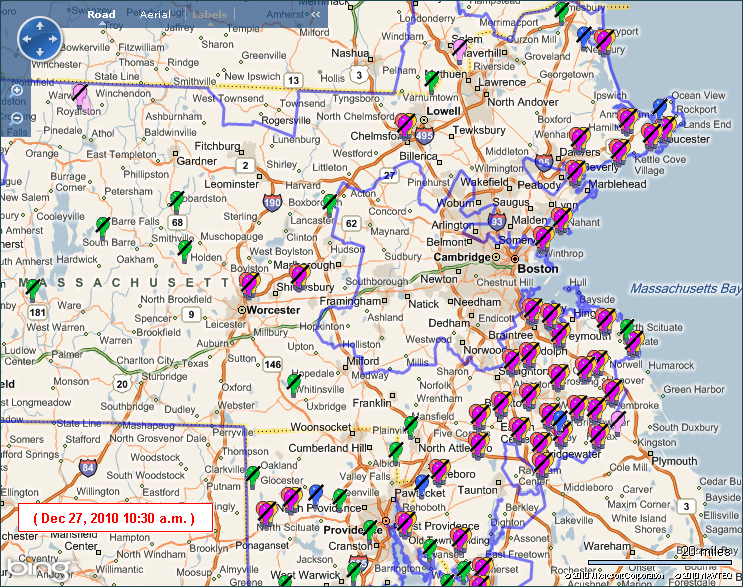 Curious if your family or friends have any power outages? You can get a idea of where the trouble spots are by visiting http://www1.nationalgridus.com/masselectric/stormcenter/ for the latest status.
The site's map is dynamic -- you can scroll and zoom it as desired -- and it's updated as new reports are received, and after services have been restored.
Add a comment
Last Updated on Monday, 27 December 2010 11:52
Read more: Blizzard? How about them power outages?
Which votes will benefit you most?
Written by Webmaster
Monday, 01 November 2010 18:49
[the following was received as a submitted article -- webmaster]
Which Votes Will Benefit You Most?
October, 29, 2010
By Len Mead
What votes November 2nd will benefit you most? Fortunately, Dear Reader, I stand ready to guide you. And why should you listen to me? What's my track record predicting how past votes turned out for you? Let's look.
Two years ago most of you voted Democrat. I asserted then that frightened voters had chosen for more government to take care of them – abdicating the personal responsibility that had made our nation great. I predicted that the Democrat victory would result in more pain, more unemployment, more taxes, more regulations more debt and a recession at best – possibly worse. The current Obama Democrat regime was then imaculated.
My predictions were right. Big-time.
In the next two years, unemployment doubled. 27 million people are now unemployed – almost 20% of our workforce -- if you include the Department of Labor's "U6" figures of marginally attached workers and those forced to work part time for economic reasons. The desperation and despair of these 27 million individuals is heartbreaking.
Ostensibly to fix this, the elected Democrat regime implemented discredited Keynesian government "stimulus" spending – most recently proven a failure by Bush's stimulus outlays. Almost a trillion dollars of "targeted" spending went to boondoggle projects and 1-shot injections for public union payrolls. This preventing needed public sector belt-tightening. Not only did this fail to grow our economy, it left us a $14 trillion debt and our Vice President proclaiming, "Yes, we have to keep spending to get ourselves out of bankruptcy." Duh?!
The total federal debt we and future generations now owe is $43,000 per citizen – unprecedented in history. When will we ever learn that no public figure can out-guess better than the millions of producers in the free market where best to spend the money they earn?
So far this year, our federal government spent $3.5 Trillion -- but collected only $2.1 trillion in taxes and other revenue! 40 cents of every federal dollar spent was borrowed. 40 cents of every dollar of army pay checks or social security checks now has to be borrowed. Do you run your family budget that way? Also, consider that 40 cents of each dollar paid to the 105,000 government employees of the Department of Agriculture has to be borrowed – and how many ears of corn do these employees grow?
Because our banking industry was forced by Barney Frank to make home loans to un-credit worthy people who then defaulted, the Democrats you elected stepped in with two new waves of government financial regulation – again arrogantly demonstrating the thinking that congressional votes could repeal the laws of financial supply and demand. Now personal bankruptcies, home evictions and bank failures are higher than at any time since 1929.
Businesses struggling to expand and hire workers by borrowing will now find available bank loans even more restricted because the new regulations cripple and punish bank risk-taking.
Every crisis between the election and now was used by the Democrat regime to intrude into our precious free markets with more regulations, more taxes, and outright theft. Rather than allow the free market cleansing action of bankruptcy to solve our once-great auto industry's problems, the Obama regime used the crisis to steal the assets of auto secured bondholders and hundreds of family owned dealerships nationwide (primarily in Republican voting areas). Then the regime rewarded union votes and donations by handing the ownership keys of the auto industry over to the very unions who drove the industry into a ditch.
The best (but not perfect) healthcare in the world will be taken over with Obamacare -- a deceptive scheme with 10 years of new taxes to fund "health change" four years from now. "Romney-care" now bankrupting Massachusetts with costs 40% over estimates is showing what Obamacare will bring.
Our country is now more despised in the world than ever. The presidential "apology tours" only encouraged our enemies to spit in our face. Our borders are now over-run with criminal illegals and terrorists while our Democrat federal government refuses to protect us by enforcing immigration laws. States trying to protect their citizens by enforcing immigration laws are being sued by the elected Democrat regime.
In short, Democrat government has failed absolutely.
So now, friends -- especially you disillusioned Democrats -- you have a chance to use your precious votes to correct these frightening "changes" away from the constitutional principles upon which our country was founded.
My advice is this election is Vote Republican everywhere you can – except where the Republican either in office or running has gone over to the socialist dark side and promises to take care of YOU with more taxes, more spending and more "fairness" regulations. Amazingly, Fidel Castro just admitted, "Socialism doesn't even work for us."
Vote conservative, and our capitalist economy will finally roar back as taxes are cut, as unproductive jobs primarily in the public sector are cut and unrealistic spending is cut (primarily unfair promised public pensions). Businesses will start growing and productive jobs will open up once again. Your career prospects, your wealth and your family's future opportunities will once again be bright.
Voting Democrat again will bring more failure, more misery and possibly even the destruction of our great country. Voting conservative will elect candidates who will mercifully start restoring our God-given rights of life, liberty and the pursuit of happiness.
Len Mead can be reached anytime at mead1720@gmail.com
Add a comment
Written by Webmaster
Sunday, 24 October 2010 08:05
I didn't realize we had previously elected Odysseus to the legislature!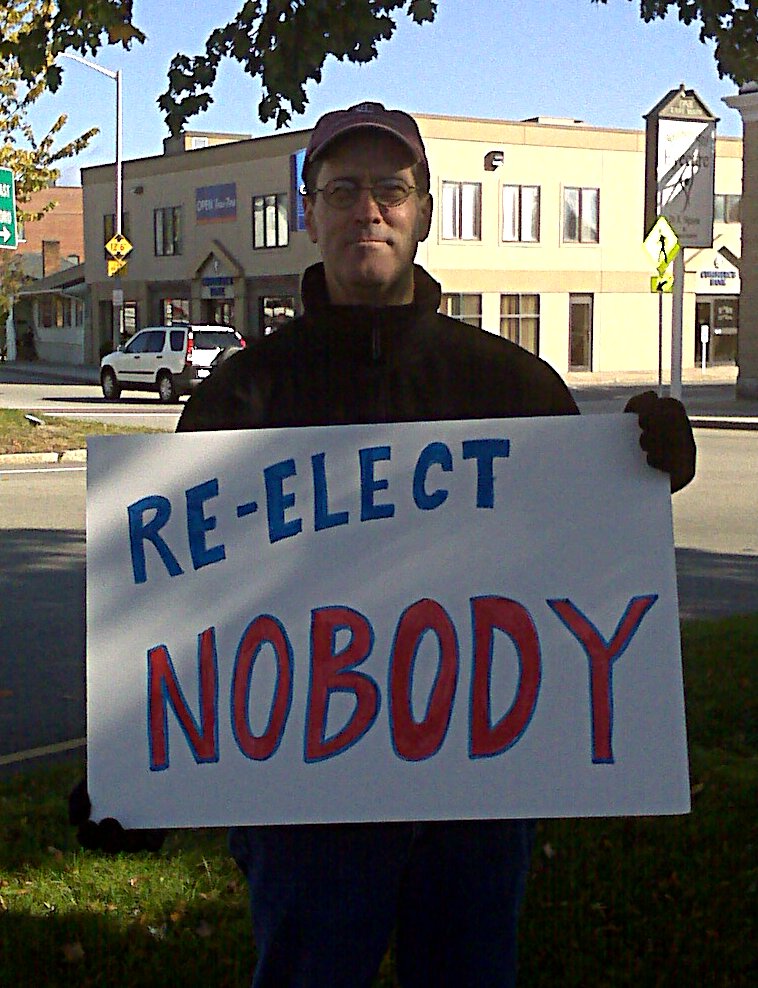 (Those wanting a refresher on Greek mythology can read up here :-)
Add a comment
Last Updated on Sunday, 24 October 2010 12:25
Page 2 of 5
<<
Start
<
Prev
1
2
3
4
5
Next
>
End
>>