Shop Local Westborough on Sat, Nov 29, 2014
Written by Michael (admin)
Saturday, 29 November 2014 00:00
Westborough _ We all know about Black Friday after Thanksgiving; most of us are also familiar with Cyber Monday the following week; but do you know about Small Business Saturday? Small Business Saturday is a "shopping holiday" pioneered by American Express Company in 2010 and will be held this year on November 29th. Just in time for Small Business Saturday, the Town of Westborough's Economic Development Committee (EDC) recently announced the launch of a new shop local initiative: Shop Westborough! The Shop Westborough Initiative is a shop local campaign to be formally kicked-off on the national "Small Business Saturday," November 29th, 2014.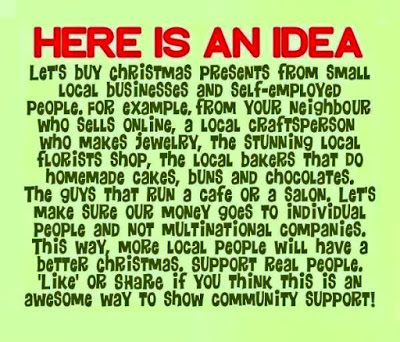 The Westborough EDC is spearheading the Shop Westborough Initiative and encourages residents to consider the many unique shopping opportunities available for holiday giving.
"It's important for everyone in our community to remain mindful of how we can contribute to the local economy. Shopping local helps small businesses flourish and encourages entrepreneurship--the very spirit of starting your own business in pursuit of the American Dream. The Shop Westborough Initiative aligns well with two goals of the Economic Development Committee (EDC): to promote business development in Westborough; and to retain and attract businesses to Westborough," said EDC Coordinator Francisco Torres.
To kick-off the Shop Westborough Initiative, the Economic Development Committee has been partnering with local businesses to offer promotions on Small Business Saturday (11/29/2014). The discounts will pop-up through advertisements across various apps on your smartphone (technology sponsored by a Westborough business and app developer, Cidewalk- cidewalk.com) beginning this week and leading to Small Business Saturday. Businesses that have signed up are Yummy Mummy Bakery, Maruyama, Taco Bell, Arturo's Ristorante, Ferris Flowers, She's a Gem, and others.
"The Westborough EDC encourages residents to take advantage of the many offers made available by our local retailers, and to visit the many unique shops for holiday shopping. Residents will find quality items and excellent service without having to travel to other communities. The more we can support our local retailers, the stronger our local economy will be now and in the future," said Deborah Penta, Chairman of the Westborough EDC.
"Why leave Town to shop?," said Jim Robbins, Westborough Town Planner. "Westborough has everything that can be found elsewhere. Whether it's the many unique small businesses of our Downtown or the larger retailers along Rt 9, Westborough has it all. Shopping local is good for the Town's economy and its residents. And, a successful local economy has a multiplier effect inciting more new businesses to locate and grow in Westborough. So save the dollars spent on gas and parking fees in the city and avoid the stress of travel while helping your neighbors and local shop owners prosper this coming shopping season. Who knows, the money you save may allow you to have a festive meal at one of our local restaurants."
With Small Business Saturday, the EDC wants to encourage folks to go out and spend money at locally owned,independent, and family-owned small businesses. Westborough businesses that are interested in participating in the Initiative should contact Francisco Torres, Economic Development Coordinator, at ftorres@town.westborough.ma.us
Last Updated on Saturday, 29 November 2014 10:57