Civic Organizations
Christmas Tree 2014 Sale Update - let's help the Civic Club!
Written by Michael (admin)
Saturday, 20 December 2014 11:17
An update from Westborough Civic Club:
As predicted, the annual Civic Club sale of Christmas trees has all the signs of again being the success that it has grown into over the past 39 years.
We're already sold out of all the roping and over 500 wreaths that were delivered just after Thanksgiving!
There are only about 50 trees left for sale, before the lot closes for another year.
Vice-president Steve Hart is urging those families in need of a tree to try and get there early Saturday with,
"No guarantee that, by the time the Patriots play on Sunday, there will be anything left at all.
"We are again both pleased and amazed with the response we have had to this fund-raising event.
"With over 1,400 trees already sold, it's a real joy to be able to go into the New Year in the knowledge that the Club can again support many great causes here in town".
The lot remains open 9.00 am - 9.00 pm at the weekend and 1.00 - 9.00 pm. weekdays....... or until the last tree is sold.
###
Already have a tree?  How about considering a tree as an early gift for someone who's not as fortunate?  Let's help out both our neighbors AND the Westborough Civic Club!
Add a comment
Buy a tree and support our Civic Club!
Written by Michael (admin)
Sunday, 30 November 2014 14:36
Wreaths - Trees of all sizes - Roping by the yard
Tree Lot is Open Daily starting Saturday Nov 29th
Monday - Friday 1pm to 9pm
Saturday - Sunday 9am to 9pm
Westborough Civic Club Tree Lot ("Tufts Machine Lot") is located at
55 East Main Street (Rt. 30), Westborough
Westborough Civic Club (website, Facebook page) is a registered charitable organization established in 1975 for the sole purpose of benefiting the town of Westborough and its residents. Club members spent last weekend preparing the club's annual Tree Lot for delivery of trees, wreaths and roping ready for opening day sales on Thanksgiving Saturday. This will be the club's 39th year of fund-raising for causes around the town and as always members are hoping to have sold every one of the 1,400 trees and 500 wreaths by Christmas Eve.
The upcoming thirty-ninth consecutive fund-raising season will commence with the delivery of over 1,400 trees and 500 wreaths on Saturday 29th November

This is traditionally a strong community event, with local scouts, Venture Crew and WHS sports teams being present to help members with unloading and setting up the trees

At 9.00 am that day the tree lot officially opens for business; due to the date of Thanksgiving there are only 26 days in which the Club hopes to sell its entire stock of trees and wreaths.

Customers both young and old are welcomed at the lot with a free candy cane from the 3,000 handed out during the season.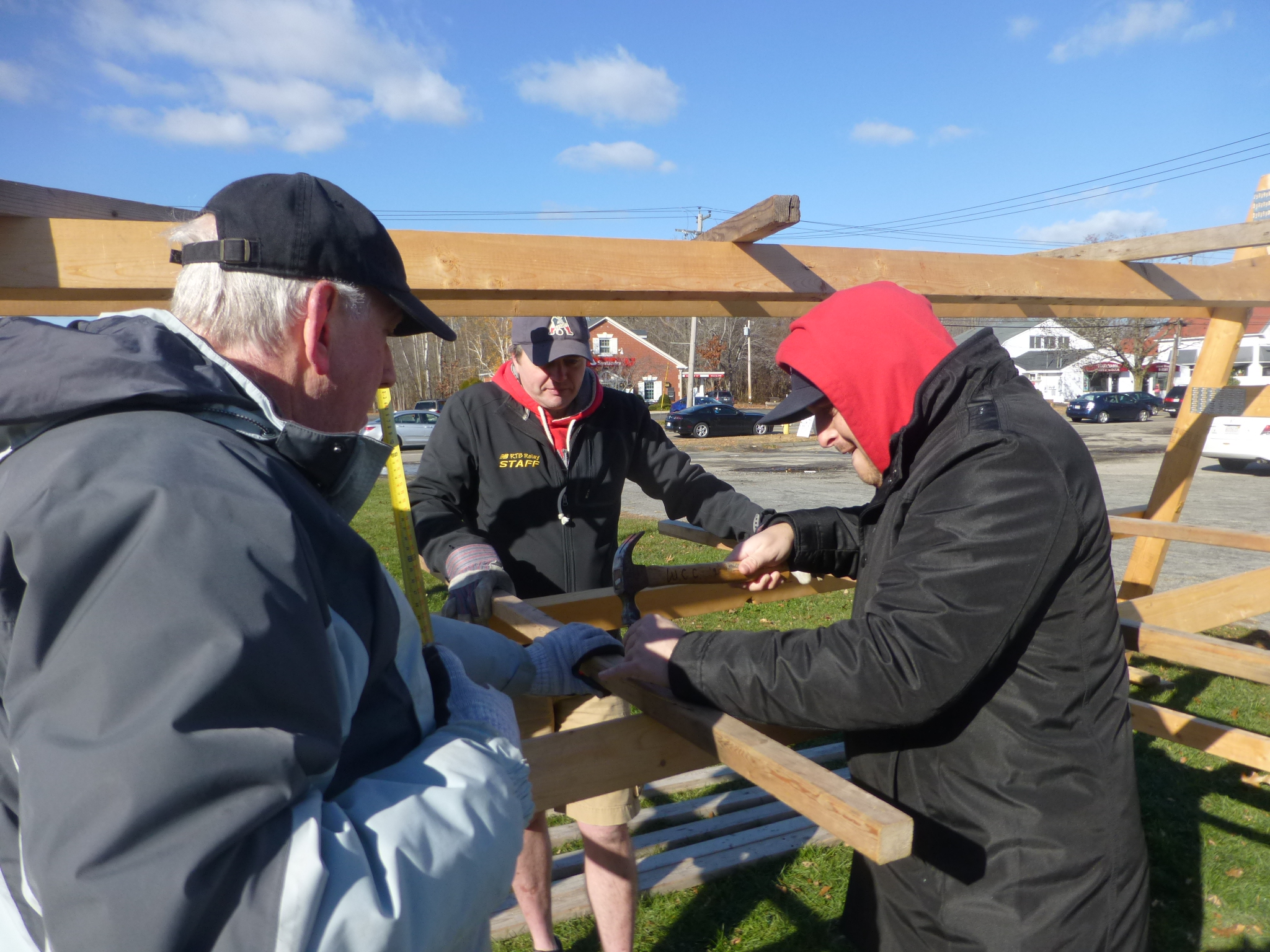 WCC1 – members Bill Kohler, Mike Pickwick and Gerry Knall (Jnr) building the wreath racks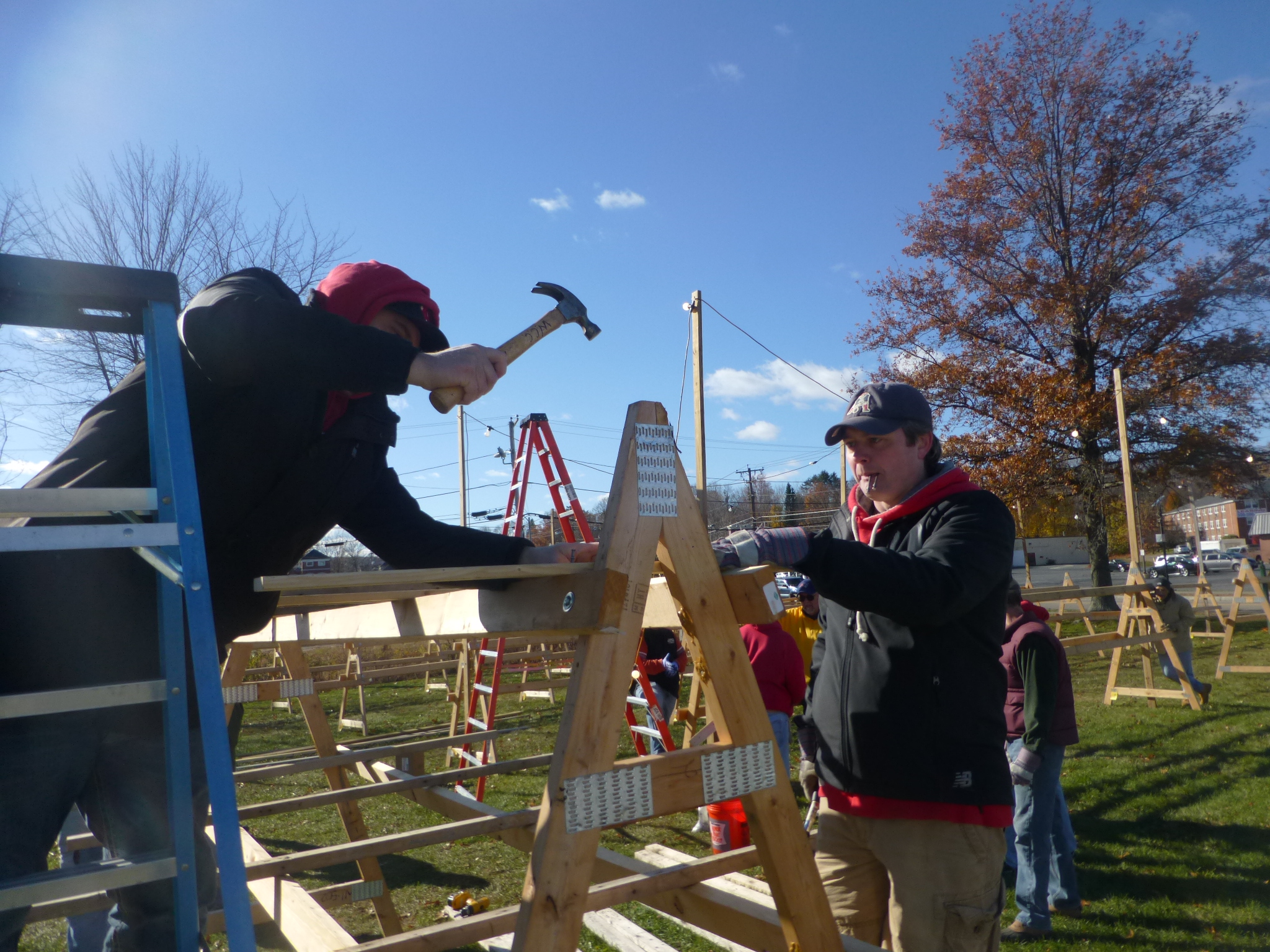 WCC2 – Gerry Knall (Jnr) and Mike Pickwick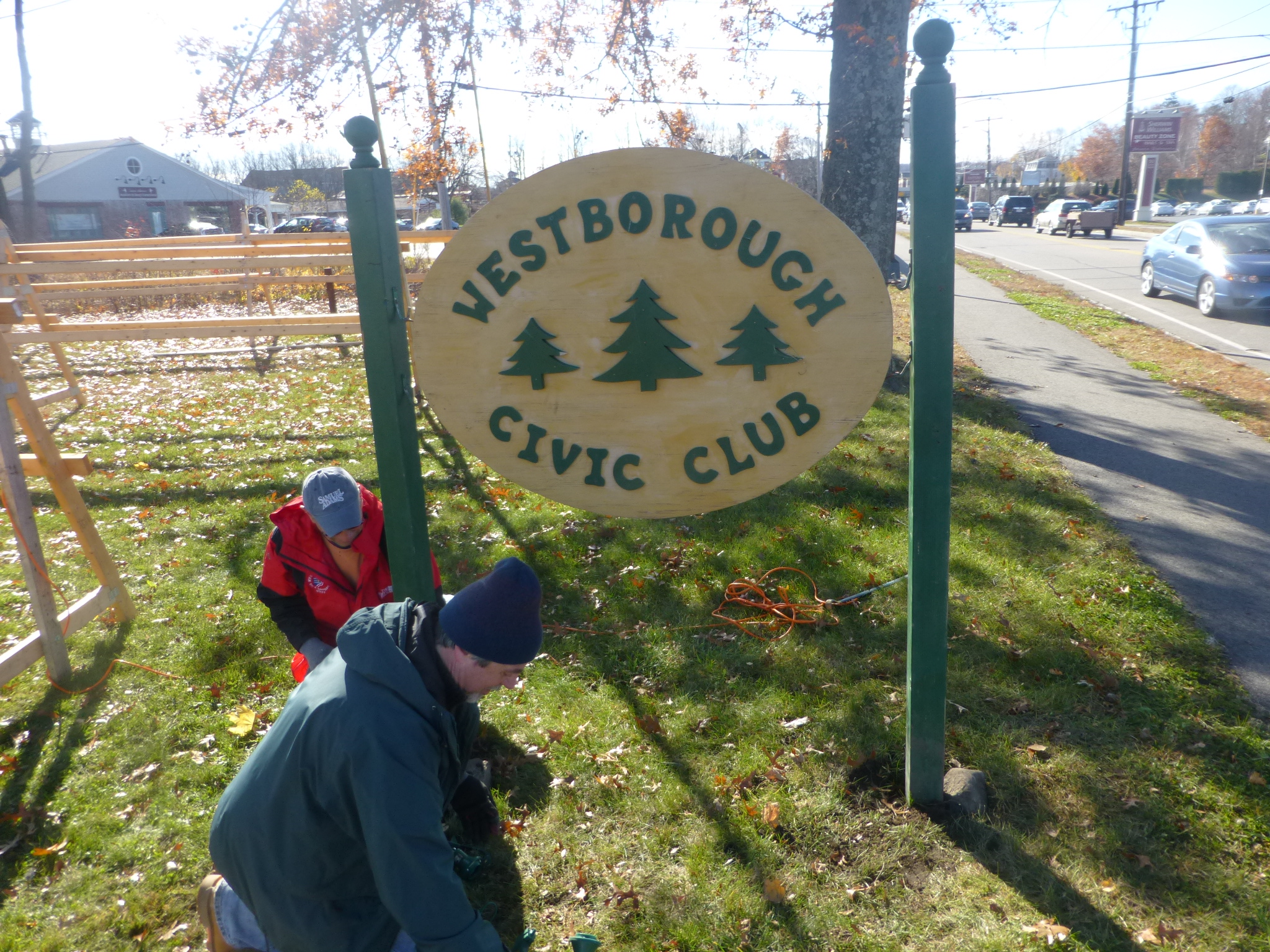 WCC3 – WCC executive members Prentice Gove and Walter Leslie erecting the club sign at the lot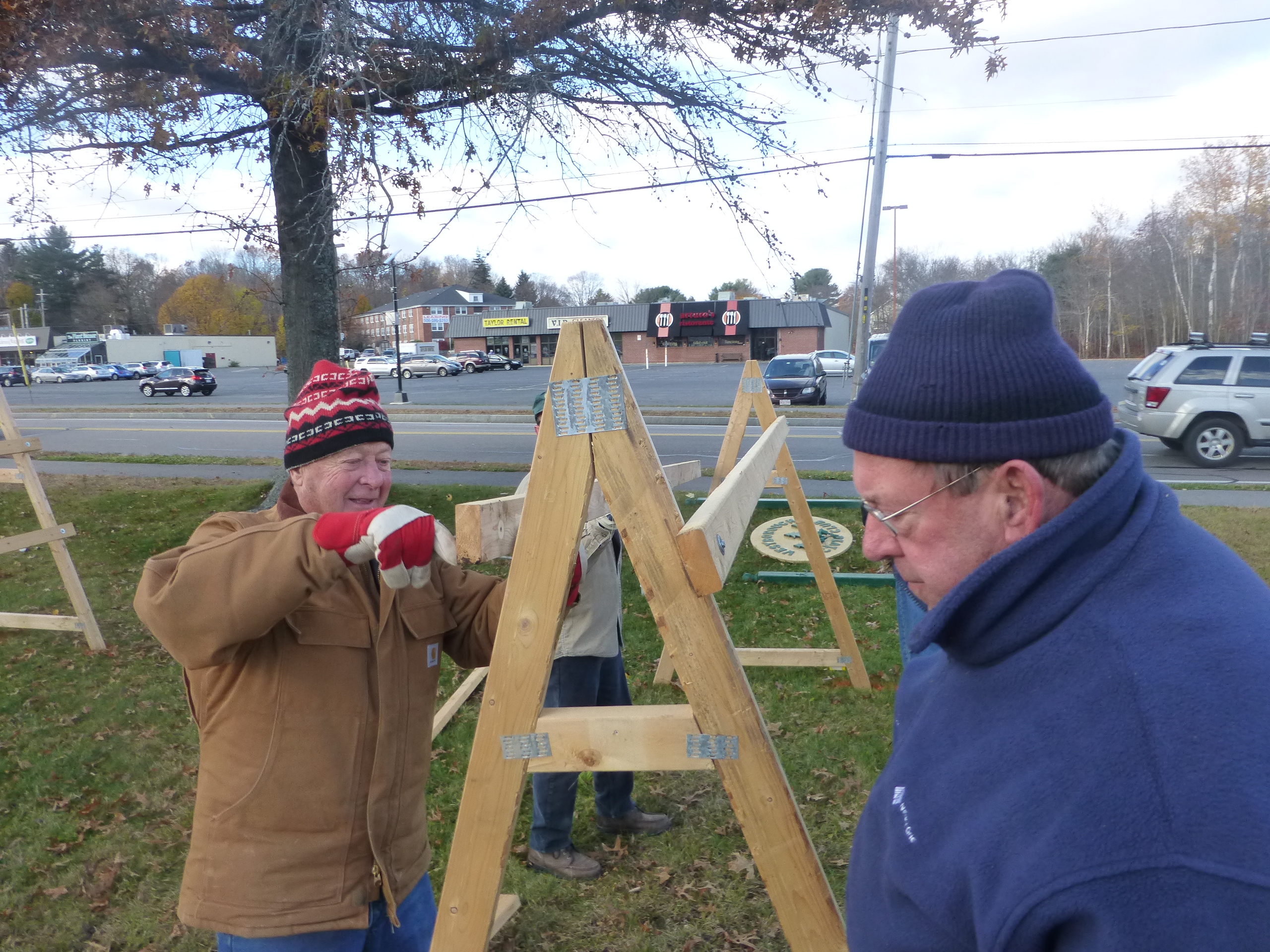 WCC4 – long standing members Ron Slingerland and David Dustman back for what they hope will be another successful year for the Club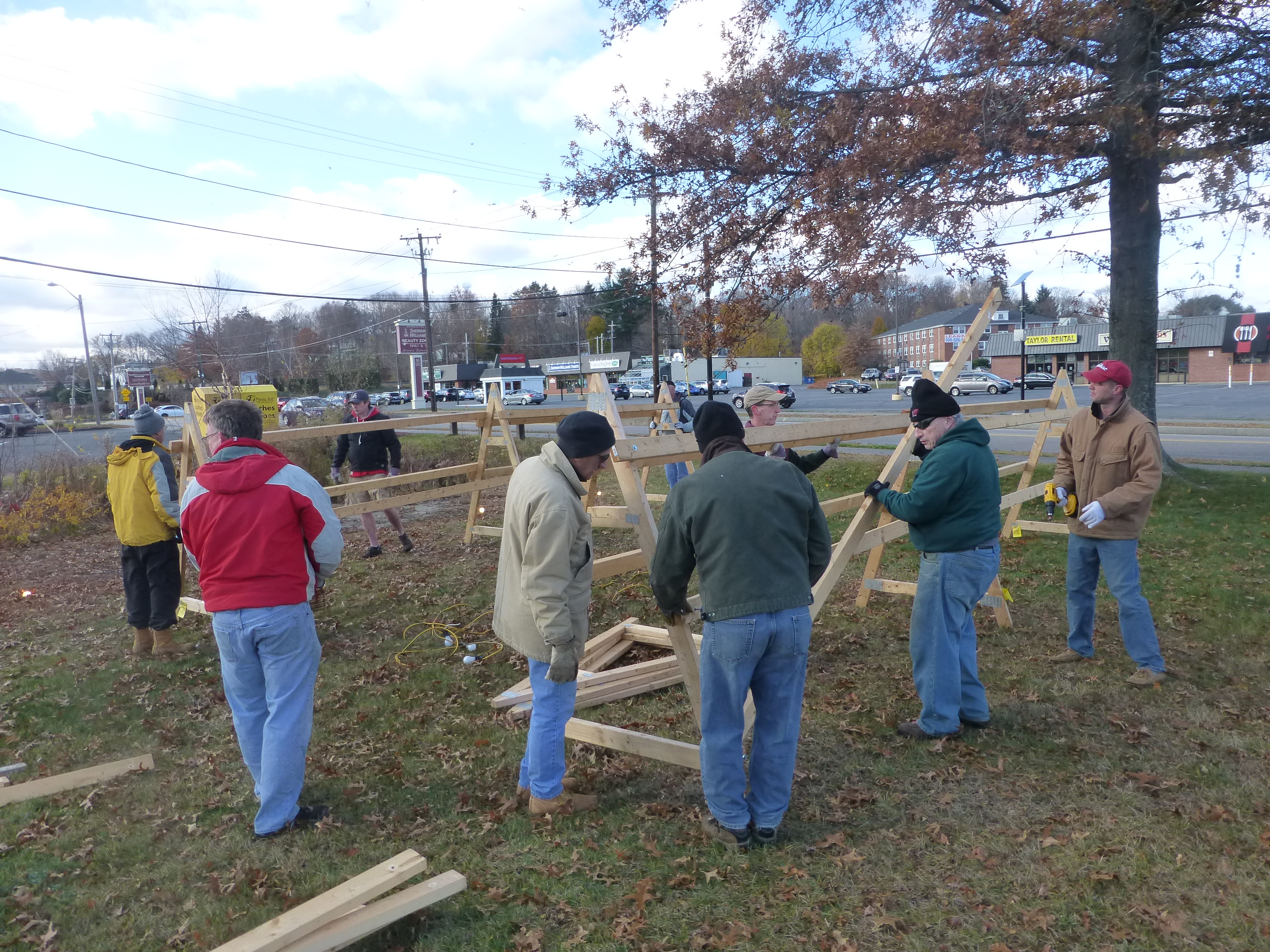 WCC5 – some of the many Club members helping prepare the lot ready for the 29th November
Add a comment
Last Updated on Sunday, 30 November 2014 16:35
Westborough Garden Club Offers Scholarships (Deadline March 31st)
Written by Webmaster
Tuesday, 26 March 2013 06:06
The Westborough Garden Club will award two scholarships, in the amount of $750 each, to this year's graduating high school seniors. Applicants must be Westborough residents interested in pursuing a college major in landscape architecture, botany, environmental science or a related field at a two or four year college.
To apply for this scholarship, applicants should write a one page letter to the Garden Club describing why you should be awarded this scholarship. Include evidence of past and continuing accomplishments and interests such as club memberships, community service, participation in special projects and activities, and your career goals. Be sure to include your area of study you wish to pursue and why. Also, please include one letter of recommendation from a member of your school faculty or administration.
Applicants should mail this information to the Westborough Garden Club, c/o Polly Thayer, 211 West Main Street, Westborough, MA 01581 or email it to WestboroughGC@gmail.com. Please include your name, address, email address, telephone number and high school. The deadline for all applications to be received is March 31, 2013.
Add a comment
Last Updated on Tuesday, 26 March 2013 06:08
Westborough Community Band Concert - Sunday Jul 15, 2012
Written by Webmaster
Friday, 13 July 2012 08:18
Grab a chair, picnic , family and friends and relax with the Westborough Community Band on Sunday, July 15th. In their fourth year under the leadership of Matthew Lefebvre, they will play at the Bay State Commons bandstand from 5:30-6:30 p.m. Their first concert this season was at the Westborough Fourth of July Block Party.
Over 60 musicians from various towns will play patriotic music, pop, American standards and more during the concert. The band practices every Wednesday and is open to all. The musicians range from high school to retired professional musicians who enjoy playing and performing. The band is thankful to the Westborough Cultural Council for their continued support through grants each year. For questions on rehearsals contact Kathy Cincotta at klcincotta@gmail.com.
Add a comment
It's Spring Festival Weekend! May 1 & 2, 2010
Written by Webmaster
Saturday, 01 May 2010 14:01
What glorious weather this weekend for the annual Westborough Spring Festival, hosted by Rotary Club of Westborough, with events from Westborough Civic Club and the Westborough Lions Club.
Please come out tonight and tomorrow to support our great organizations and have a terrific family-friendly fun time.
Saturday May 1
10 am
Westborough Civic Club Fishing Challenge
Minuteman Park
5:30 pm - 7:00 pm
Westborough Lions Club Italian Dinner
Westborough High School
$6/individual or $20/family
Entertainment & Silent Auction!
Sunday May 2


(All events at Westborough High School)
7:30am
41st Annual Scholarship Brunch
9 am
5K Road Race
11 am
Bake Off & Sale,
Tufts Dog Run
Tufts Dog Wash
12 pm
Food Festival
Kids Carnival
2 pm
Tufts Dog Show
* Lions Sightmobile *
The Lions Sightmobile will offer Free Eye and Hearing screening 11 - 3pm (Sunday). The health screening consists of 3 eye checks, blood sugar check and a hearing check. Westborough Lion Dr. Khuong Nguyen from Westborough Eye Care will be the doctor in attendance during the screening.
Add a comment
Last Updated on Sunday, 02 May 2010 14:39