Web site feedback wanted & best wishes for the holidays!
Westborough Today -
Opinions and Editorials
Written by Michael (admin)
Tuesday, 23 December 2014 21:34
[recently posted to Facebook with the following.  Comments welcomed here too, of course! -- webmaster]
Hi people -- we recently re-discovered mysouthborough.com. Any Westboronians familiar with that website? What do you think about its format?
We're looking to re-do this here Westborough.com, and would love some feedback: What's useful to you? What do people want from a local site?
If you've got examples of other good sites, please share 'em!
Very many thanks, and best wishes for a wonderful holiday season and New Year's to you and your loved ones.
---
P.S. Want to help us rebuild the site?  Content and tech contributors welcome! Contact: info@westborough.com
Add a comment
Christmas Tree 2014 Sale Update - let's help the Civic Club!
Westborough Today -
Civic Organizations
Written by Michael (admin)
Saturday, 20 December 2014 11:17
An update from Westborough Civic Club:
As predicted, the annual Civic Club sale of Christmas trees has all the signs of again being the success that it has grown into over the past 39 years.
We're already sold out of all the roping and over 500 wreaths that were delivered just after Thanksgiving!
There are only about 50 trees left for sale, before the lot closes for another year.
Vice-president Steve Hart is urging those families in need of a tree to try and get there early Saturday with,
"No guarantee that, by the time the Patriots play on Sunday, there will be anything left at all.
"We are again both pleased and amazed with the response we have had to this fund-raising event.
"With over 1,400 trees already sold, it's a real joy to be able to go into the New Year in the knowledge that the Club can again support many great causes here in town".
The lot remains open 9.00 am - 9.00 pm at the weekend and 1.00 - 9.00 pm. weekdays....... or until the last tree is sold.
###
Already have a tree?  How about considering a tree as an early gift for someone who's not as fortunate?  Let's help out both our neighbors AND the Westborough Civic Club!
Add a comment
2014 Toys for Tots drop-off at Westboro Toyota until Dec 15th
Westborough Today -
Public Service Announcements
Written by Michael (admin)
Saturday, 13 December 2014 11:17
Final days! Westborough Toyota is an official TOYS FOR TOTS drop-off location.
As they posted here,
"We are a Toys For Tots Drop Off!
We will be accepting donation until December 15th!"
PLEASE NOTE: Only NEW and UNWRAPPED toys.
Thanks!
Westboro Toyota is at 271 Turnpike Road (westbound) , Westborough MA.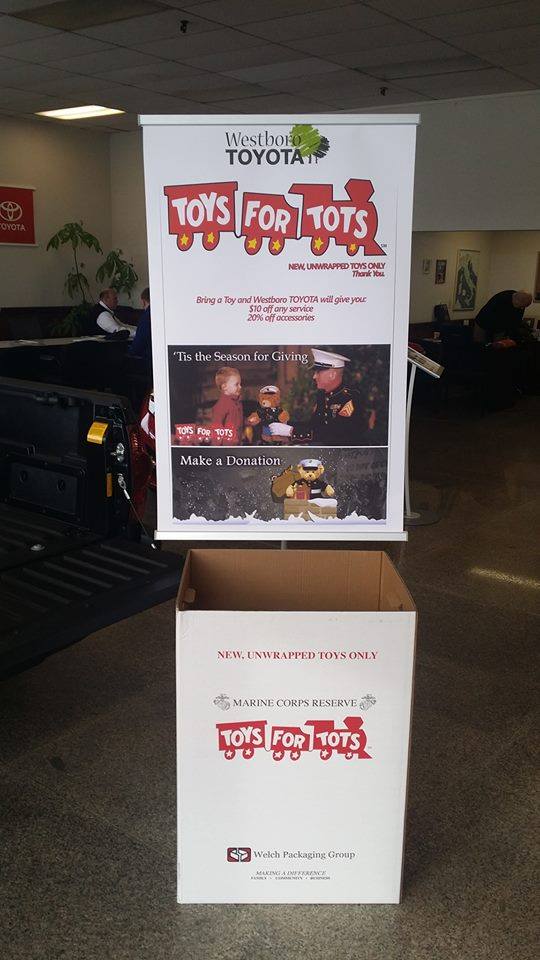 Add a comment
Ski Swap Today - Dec 13 till 1 PM at Hastings
Westborough Today -
Non-Profit Organizations
Written by Michael (admin)
Saturday, 13 December 2014 10:30
It's on now!  Till 1pm TODAY, the
47th annual SKI SWAP
at Hastings Elementary School, 111 E. Main St.

You will find new and used equipment from invited vendors, in addition to consignment items offered by local area residents.
Come browse & buy!  Every purchase helps raise funds for Westborough's local Explorer Post 85.
For more info, see http://www.explorerpost85.com/FundRaising.htm
Add a comment
New Elder Services Website: CareGivingMetrowest.org
Westborough Today -
Public Service Announcements
Written by Michael (admin)
Wednesday, 03 December 2014 00:11
SENATOR ELDRIDGE, REPRESENTATIVE HOGAN HOST STATE HOUSE BRIEFING ON BAYPATH
ELDER
SERVICES NEW WEBSITE
New website provides wealth of resources and information for seniors and caregivers in 25 Metrowest communities 

BOSTON-- (Tuesday, November 18th) Senator Eldridge (D-Acton) and Representative Kate Hogan (D-Stow)  hosted a briefing at the State House on the newCaregivingMetroWest.org website launched by BayPath Elder Services, Inc. which serves as an online resource for caregivers of elders in 25 Metrowest towns in Massachusetts.
"This newly launched website will be a useful resource to connect caregivers with services and a support network in a much more effective way in the Metrowest region," said Senator Jamie Eldridge. "I applaud BayPath Elder Services, Inc. for the work they do to increase the quality of life for individuals who care for aging loved ones with chronic conditions, illness and other disabilities."
"One of the most difficult obstacles to overcome when choosing support services is knowing what services there are to choose from, and whether or not your loved one qualifies for them," said Representative Kate Hogan. "BayPath Elder Services' new site is designed to relay specific, customized information about local resources for individuals and caregivers at their own pace and on their own time."
New features of CaregivingMetroWest.org include a town resource map, government agencies and program information, caregiver concierge to guide users to the information best suited to meet their needs, discussion forum, new blog called Caregiving Chronicles, glossary for medical terminology, helpline, news from around the web, home and health safety resources.
For more information about services available to caregivers in the MetroWest region, visit CaregivingMetroWest.org for details.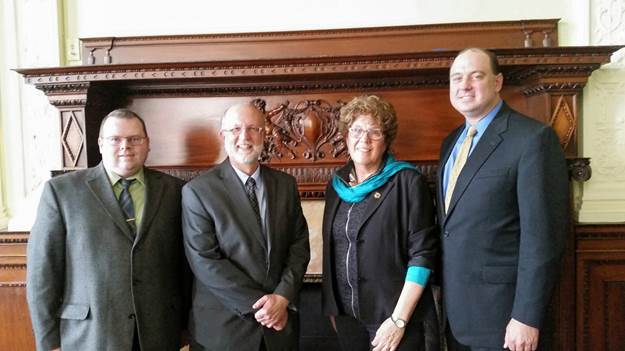 From left to right, Douglas Flynn, Caregiving MetroWest Program Manager, Stephen Corso, Director of Strategic Initiatives at BayPath Elder Services, Inc., Representative Kate Hogan (D-Stow) and Senator Jamie Eldridge (D-Acton) hosted a briefing on the newly launched Caregiving MetroWest website at the State House.
Add a comment
Page 1 of 78
<<
Start
<
Prev
1
2
3
4
5
6
7
8
9
10
Next
>
End
>>